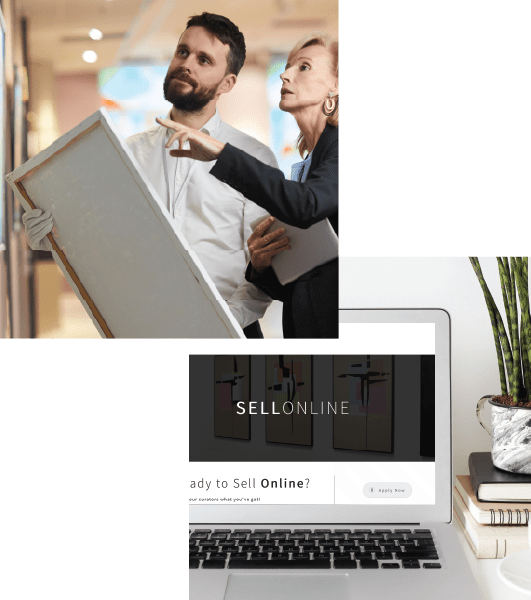 Why Did Redwood Partner
WITH ART MONEY?
It's proven. They were founded in 2015 and have partners around the globe.
Together we can convert inquiries to sales.
You can achieve higher prices.
We don't have to be a bank — you don't have to create payment plans.
It's a powerful sales tool, revenue can double when an Art Money option is offered. Collectors increase their budgets and get to yes more often.
It's about psychology not affordability.
No set-up or advance fees, no risk, no downside.
The more actively you promote, the more success you will have.
HOW DOES IT WORK? IT'S SIMPLE.
The collector pays:
Your artwork price
10 payments
10 months
You get:
Paid in 15 business days minus your normal Redwood commission.
WHAT DO YOU NEED TO DO?
You only need to push your collectors, fans, and followers to your Storefront on the Redwood Online Art Marketplace. Everything else is right there for your collector to shop and buy with Art Money. When their transaction is complete, you'll receive notification to ship and the next thing you'll know, you'll be in the money!
Seller
RESOURCES
Seller's Art Money Suggested Copy
1. Art Money Logo
Falling in love with my art? We make it easy to make it your own.
10 payments. 10 months. No interest.
Get Started.
(link to Redwood Storefront)
2. Art Money Logo
(Your Name) partners with Art Money to make my art more accessible.
Art Money allows you to enjoy the artwork now and pay over time.
Get Started.
(link to Redwood Storefront)
3. Art Money Logo
10 payments. 10 months. No interest.
We (OR Your Name) partner with Art Money to make art more accessible.
Enjoy now, pay over time, support artists. Find out more.
(link to Redwood Storefront)
4. Art Money Logo
Thank you for loving my art.
I've partnered with Art Money to make my art more accessible.
10 payments. 10 months. No interest.
Get Started.
(link to Redwood Storefront)
5. Social Media Artwork post
Artwork Title, 2022
Medium
Size
$x,xxx  or $xxx per month with Art Money
(Example: $5,000 or $500 per month with Art Money)