SPECTRUMBROOKLYN
Spectrum Brooklyn, Redwood's newest art fair, presents a curated group of 60+ independent career artists, studios, and galleries coming together to showcase their newest and most inspired creations. Spectrum Brooklyn offers the unique opportunity to discover art you love from edgy innovators, amazing designers, and intuitive galleries and dealers. It will be a not-to-be-missed weekend of discovery — who knows what you'll find!
Want to Exhibit?
Located at Brooklyn's Expo Center in the trendy Greenpoint neighborhood, Spectrum Brooklyn is an exciting addition to Brooklyn's vibrant arts and culture mix. Be there to showcase your newest works!
Want to Attend?
Spectrum Brooklyn, New York's new art & design fair, where creativity knows no bounds! See an exciting mix of art and design with the opportunity to talk to the artists, designers, and dealers, learn their stories, and take home pieces you love.
FAIR HOURS
OPENING NIGHT RECEPTION
Friday, September 10, 2021 | 4 PM – 8 PM
PUBLIC FAIR HOURS
Friday, September 10, 2021 | 12 PM – 8 PM
Saturday, September 11, 2021 | 12 PM – 8 PM
Sunday, September 12, 2021 | 11 AM – 6 PM
Tickets will be available in July 2021.
THE VENUE
Located at Brooklyn's Expo Center, one of New York's premier event locations, Spectrum Brooklyn is perfectly located and close to Brooklyn's array of restaurants, hotels, and museums. Convenient parking and easy transportation make Spectrum Brooklyn a perfect destination for exploring the latest in art & design. The fair welcomes its esteemed exhibitors and attendees to a beautiful gallery-style venue.
ACCOMMODATIONS
To ensure your comfort and convenience, we've negotiated exclusive discounts at popular local hotels. To save big, book through onPeak, the official housing partner of Spectrum Brooklyn. The onPeak hotel link for Spectrum Brooklyn 2021 will be posted as soon as it becomes available. Check back for updates!
Follow Spectrum Brooklyn on Facebook, Twitter, and Instagram to stay up to date with the latest news and announcements.
ART LABS
Art Labs feature specially curated projects by leading galleries, art institutions, and art collectives within the fair.
SPOTLIGHT PROGRAM
The Spotlight Program provides collectors a focused look at several cutting-edge artists recognized for their skill and achievement in the visual arts.
DIRECTORS' PICKS
Discover specially selected artworks by the Spectrum Brooklyn fair directors.
DISCOVERIES COLLECTION
Spectrum Brooklyn features highly collectible works from across the U.S. and around the world. The Discoveries Collection showcases some of our favorite affordable pieces—each one a great option at $3,000 or less.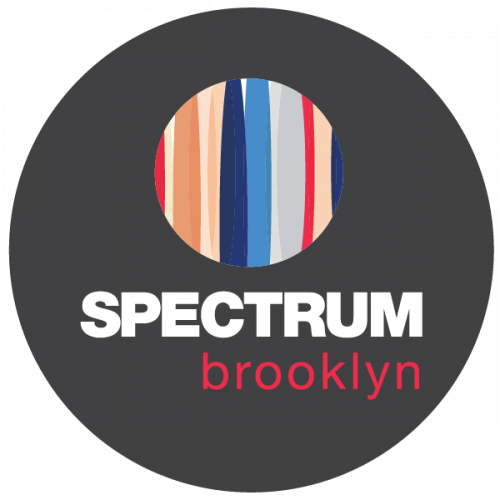 Will COVID-19 protections be in place for exhibitors and attendees?
The health, safety, security, and wellbeing of all who enter Spectrum Brooklyn is our number one priority. We have developed and will implement venue plans, policies and procedures to minimize risk and protect our collective health. All federal, state, and county health guidelines will be followed and strictly enforced.
Are wheelchairs allowed?
Yes, we have two wheelchairs on-site. They are available on a first-come, first-served basis. If you require a wheelchair at a specific time, we suggest you make arrangements with our operations manager via email at operations@redwoodartgroup.com.
Are children allowed?
Yes, children of all ages are allowed, and those 15 and under receive free admission. However, children under 16 must be accompanied by an adult, and no strollers are permitted. Oh, and please remind your little ones to never touch the art.
I'll be sightseeing in Manhattan and Brooklyn before coming to the fair. Can I bring my backpack?
For your safety, large bags will not be permitted in the event. Please do not bring suitcases, folding bicycles, scooters, or any items bigger than a handbag or laptop bag.
My dog is super cute and never barks. She can even fit in my purse. Can I please bring her in?
We love pets, too! However, only ADA-certified service dogs assisting handicapped or disabled individuals are permitted inside the venue.
Can I take pictures of the artwork?
Photography of the artwork is only allowed with the exhibitor's permission.
Who is that guy taking my picture?
Press and promotional photography and filming are taking place during the fair. Attendance at the fair implies permission for your image to be used for non-commercial purposes (including media reports).
Can I bring my vape pen?
Smoking or vaping is not permitted on the fair premises.
Booth Sizes & Floor Plans
There's something for everyone with our booth packages and amenities.