The Angel of Reconciliation is a symbol of hope and reassurance for the times in which we live.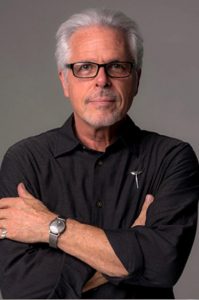 "As the Artist of Hope, I create spiritual images with messages that inspire. These visions are like portals for viewers to enter into, enabling them to glimpse into the unseen reality which lies beyond our natural perception."  Steven Lavaggi
Steven Lavaggi – About the Artist of Hope
Steven Lavaggi is known as the "Artist of Hope". His imaginative and original paintings, grand scale murals, home decor, and jewelry line are recognized internationally. His jewelry was also featured on the QVC television shopping network for 11 years and is now top selling in the DALI Museum. (St. Petersburg, FL.)
The rich meaning and significance of what originally began simply as an angel painting was later realized when Steven transformed the painted image into an original sculpture. The first edition of the twenty-inch Angel sculptures became an immediate international sensation. It was during a speaking tour as a guest of the Parliament of South Africa that something remarkable occurred… As Steven was speaking to a gathering in Soweto, he spontaneously lifted one of two angel sculptures above his head to show the audience of 3500. It happened to have a black patina finish.
The audience jumped to their feet excited with joy! The leader of their group revealed that there had recently been what they would call a "prophetic" speaker visiting them, and he had declared that God would soon send an international artist who would express the love of God to their culture by doing something like "painting Angels in black!"
Steven reached down and lifted the second angel sculpture, which was pearl white. He held it high above his head next to the black angel and said, "You can imagine these angels were created to be like brothers, even as God intends us to be."
It wasn't until the next day that he realized these angels would now be named the "Angels of Reconciliation". That set of angels sold on auction in Cape Town and was bought as a gift for Nelson Mandela. This began a phenomenal series of events that have propelled Steven onward into creating an incredible, collectible series of Spirit-inspired paintings, sculptures, figurines, printed editions, and jewelry, as well as home decor products.
The Angels of Reconciliation series represents a global symbol of unity and reconciliation for all of humanity, whether it be reconciliation between the individual and God, people's relationships, or even reconciliation between nations. It is a message of hope and reassurance for the times in which we live.
Faith, hope, and love are the core messages for Steven as he has always creatively reflected light in the midst of the darkness, encouraging the viewers to believe in the higher purposes of life through a spiritual perspective.
Angels are one symbol Lavaggi uses as a guidepost to show the ever-present love, protection, and guidance from above. The angel's wings majestically point upward toward the heavens, where we may envision being encouraged every step along life's journey here below.
In creating these truly sincere expressions of hope for our world, it is the artist's intent to edify those who own his art and jewelry by sharing this vision with others. In the end, only what we do out of a sincere heart of love for others will last for all eternity. The art of Steven Lavaggi encourages us to live our lives in such a way that we may create and live a legacy worth leaving behind.
About the LAVAGGI – "LEGACY OF HOPE"
Lavaggi's 21st-century symbol of an angel, at first glance, appears to be simple and understated. Further study reveals this angel to be elegant, fluid, and streamlined, which was the artist's intent when designing it. It is a forward-leaning, progressive, futuristic angel design.
One of the reasons this angel appeals to such a vast spectrum of people is because it is not perceived as a religious symbol as much as it is an inspirational one. This allows every viewer to discover the personal meaning within themselves as to what this vision represents. Most religions acknowledge angels in their sacred writings. This fact encourages us to see what we have in common, more than what separates us. The Angels of Reconciliation inspires the dream of global unity and reconciliation for our world and is known as a symbol of hope and reassurance for the times in which we live.
The Lavaggi Legacy of Hope was further realized to a greater extent when Steven Lavaggi's sister randomly entered a small chapel in Rome and found a sculpture there titled the "Angel of Hope", dated 1728 with the name Jacopo Lavaggi on the plaque. This amazing discovery led Steven to research the Lavaggi name in art history, which revealed another sculpture titled the "Allegory of Hope" by Giacomo Antonio Lavaggi dated 1686! It was during Steven's showing at Artexpo New York, that he met with Rene Lavaggi who was a "stone cutter/sculptor" originally from Italy.
What an amazing tradition of art, but what is most astounding is that Steven, who is called the "Artist of Hope" by millions of people, had no idea that this message of Hope preceded him down through the centuries, through the Lavaggi line of artists. and now continues in this new century, in our new world of global communications.
COLLECTOR LISTS
Hunter Tylo (Entertainers)
Smokey Robinson (Entertainer)
Gail & Chick Corea
Mrs. John McLaughlin
Mrs. George Martin
Clint Black & Lisa Hartman Black
Dennis Weaver (Actor & Environmentalist)
Fred Segal (Fashion Visionary & Humanitarian)
Michael Hammer (Vice President, Oxydental Petroleum Corp.)
Nic DeMarco (Former President, Pierre Cardin)
Donna Summers (Recording Artist)
Gavin & Patti MacLeod (Entertainers)
Billy Gibbons (ZZ Top Guitarist)
Ted Mann (Mann Theatres)
Ben Vereen (Actor/Entertainer)
Chip Davis/Mannheim Steamroller (Composer)
Tony Compola (Spiritual Adviser to President Clinton)
Dr. Fred Adler (Former President, Hughes Aerospace)
Mrs. Adrienne Adler (Owner, Gallerie Adrienne)
Larry & Lauren Thompson
(Former Executive Vice President, Herbalife)
Leonard Stern (Television and Movie Producer)
Johnna & Stephen Jones (Arthouse/Austin)
Konrad Marcus (President, Prince Corporation)
Mick and Cynthia Garris (Film Writer/Producer/Director)
Richard Christian Matheson (Author)
Albert Jacobson (President/Founder, Garden of Eatin')
Rob Lessin (President, Seelect Teas)
Glen Larson (TV Producer)
Rhonda Fleming (Actress)
Mrs. Norman Vincent Peale
Ozzy & Sharon Osborne
Lynn Landon (Michael Landon's wife)
George Goldberg (Publisher, Faces International Magazine)
John Purdell (Music Producer Motley Crue & Ozzy Osborn)
Joel Tucciarone (Marketing/President, Zoetics)
Pasquale Vericella (Owner, Il Cielo Restaurant)
David & Cynthia Stern (Developer)
Dr. Richard Anderson (Vice President Retired, Gulf Oil)
Connie Sellecca (Actress)
Rudolph Schenker (Recording Artist – "Scorpions")
Mr. and Mrs. Jeffrey Osborn (Recording Artist)
John Michael Talbot (Recording Artist)
Dr. Jack Hayford
Carol Lawrence (Actress / Entertainer)
Zach & Barbara Horowitz
(Universal Music Group – Pres. & Cardiologist / UCLA)
Patrick Reynolds
(Author and Chairman of Foundation for a Smoke-Free America)
Andre Crouch (Singer/Song Writer)
Mark and Jo Anne Lono (co-owners, Improv
Dr. Dennis Whaitley (Motivational Speaker)
Tata Vega (Recording Artist)
Jerrill Rice (Indy Car Driver)
Shirley MacLaine (Actress/Entertainer)
COMMERCIAL CLIENTS
Hotel Intercontinental, Hilton Head, S. Carolina
MCA/Universal Studios, Universal Studios, CA
Off Vine Restaurant, Hollywood, CA
Future Disc Systems, Hollywood, CA
J. Walter Thompson, Los Angeles, CA
The Church On The Way, Van Nuys, CA
Pie In The Sky Restaurant, New York
Il Cielo Restaurant, Beverly Hills, CA
First Assembly of God Church, Charleston, SC
Childhelp U.S.A., Los Angeles, CA
Priscilla's Cafe, Toluca Lake, CA