The largest international gathering of qualified trade buyers, Artexpo New York presents over 400 local, national, and international galleries and publishers, along with pioneering independent artists and photographers in the [SOLO] Project, exhibiting thousands of forward-thinking, boundary-pushing works. There will be something for every space, taste, and budget.
Want to Exhibit?
Looking to make priceless contact with trade buyers, expand your business's reach, sharpen your marketing skills, and reach the next level in your art career? Then Artexpo New York is the place to be!
Want to Attend?
With more than four decades of presenting stunning original artworks and cutting-edge seminars from industry leaders and key players, Artexpo New York is where over 40,000 buyers and collectors come to play.
VISITORINFO
FAIR HOURS
TRADE ONLY
Thursday, October 28, 2021 | 12–7PM Trade Only
5–7PM Trade First Preview
Friday, October 29 2021 |10AM–4PM Trade Only
PUBLIC FAIR HOURS
Friday, October 29, 2021 | 4–8PM Opening Night Reception (Open to public & trade)
Saturday, October 30, 2021 | 11AM–7PM
Sunday, October 31, 2021 |11AM–6PM
Tickets available beginning in September 2021.
THE VENUE
Taking place at New York's Pier 36 in Manhattan's trendy Lower East Side, Artexpo New York showcases the emerging and the iconic, hosting everyone from Andy Warhol and Robert Rauschenberg to Yayoi Kusama and Mr. Brainwash.
ACCOMMODATIONS
To ensure your comfort and convenience, we've negotiated exclusive discounts at some of the finest hotels in the area through onPeak, the official housing partner of Artexpo New York. The onPeak hotel link for Artexpo New York 2021 will be posted as soon as it becomes available. Check back for updates!
Follow Artexpo New York on Facebook, Instagram, Twitter, and Flickr to stay up to date with the latest news and announcements.
ART LABS
Art Labs feature specially curated projects by leading galleries, art institutions, and art collectives within the fair.
SPOTLIGHT PROGRAM
The Spotlight Program provides collectors a focused look at several cutting-edge galleries and artists recognized for their skill and achievement in the visual arts.
TOPICS & TRENDS
The Topics & Trends education series offers cutting-edge seminars and high-quality professional development programming that offer expert perspectives on today's most pressing industry challenges and the trends changing the way business is done.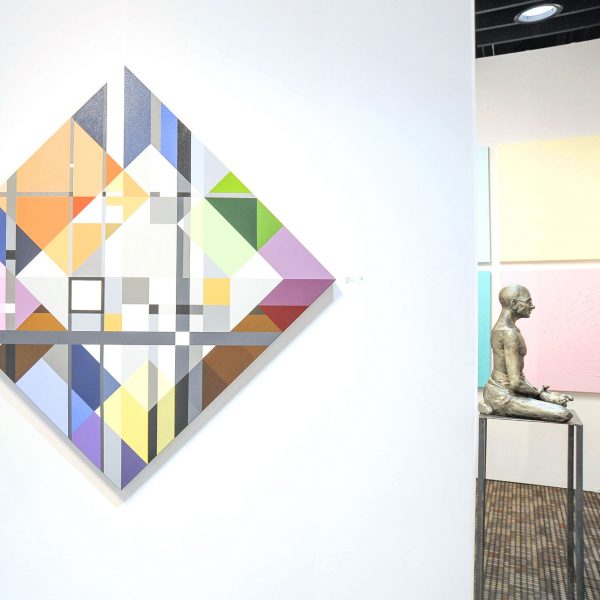 What COVID-19 precautions are in place for exhibitors and attendees?
The health, safety, security, and wellbeing of all who enter Spectrum Wynwood is our number one priority. We have developed and will implement venue plans, policies and procedures to minimize risk and protect our collective health. All federal, state, and county health guidelines will be followed and strictly enforced.
Are wheelchairs allowed?
Yes, we have wheelchairs on-site for the fair. They are available on a first-come, first-served basis. If you require a wheelchair at a specific time, we suggest you make arrangements with our operations manager via email at operations@redwoodartgroup.com.
Are children allowed?
Yes, children of all ages are allowed, and those 15 and under receive free admission. However, children under 16 must be accompanied by an adult, and no strollers are permitted. Oh, and please remind your little ones to never touch the art.
Can I bring a backpack?
For your safety, large bags will not be permitted in the event. Please do not bring suitcases, folding bicycles, scooters, or any items bigger than a handbag or laptop bag.
My dog is super cute and never barks. She can even fit in my purse. Can I please bring her in?
We love pets, too! However, only ADA-certified service dogs assisting handicapped or disabled individuals are permitted inside the venue.
Can I take pictures of the artwork?
Photography of the artwork is only allowed with the exhibitor's permission.
Who is that guy taking my picture?
Press and promotional photography and filming are taking place during the fair. Attendance at the fair implies permission for your image to be used for non-commercial purposes (including media reports).
Can I bring my vape pen?
Smoking or vaping is not permitted on the fair premises.
All Health and Medical Guidelines will be strictly followed, including:
Ticketing pre-registration
Timed entry tickets
Contactless and queued check-in
Health checks prior to entry
All staff, exhibitors, and attendees must wear masks at all times
Apply
We welcome artists, artist collectives, galleries, and art publishers to apply to our fairs.
Booth Sizes & Floor Plans
There's something for everyone with our booth packages and amenities.
SOURCE
HEADLINE
LINK
American Fujisankei
American Fujisankei Promotes Artexpo New York Exhibitor Maya Mekira
Read Announcement →
am New York
am New York Calls Artexpo the Lead Event to Attend in the City
Read Announcement →
Art & Museum Magazine
Art & Museum Magazine Covers Artexpo New York
Read Coverage →
Artforbes
Artforbes Announces Artexpo New York 2019
Read Announcement →
Art Market Magazine
Artexpo New York
Is Relocating to Pier 90
Read Announcement →
Artnet
Artnet Picks Artexpo New York as a Not-to-Miss Event
Read Announcement →
ArtRabbit
ArtRabbit Announces Artexpo 2019
Read Announcement →
Artsy
Artexpo New York Exhibitor The Gallery Steiner on Artsy
View Content →
Art World News
Art World News Newsletter Invitation #2 for Artexpo New York
Read Newsletter →
Art World News
Art World News Newsletter Invitation for Artexpo New York
Read Announcement →
Asea News
Asea News article on Artexpo New York exhibitor Agora Gallery/Artist Sal Ponce Enrile
Read Announcement →
Austrian FindArt.cc
Austrian FindArt.cc announces Artexpo New York 2019
Read Article →
Blasting News
Artexpo New York Artist Roxy Sora interviewed on Blasting News
View Article →
FNN TV in Japan
Linda Mariano, RMG Marketing Director, interviewed on FNN TV in Japan
Read Article →
Hi Class Living Magazine
Hi Class Living Magazine published editorial on Artexpo New York relocating to Pier 90
Read Announcement →
Inquirer USA today
Exhibit by Filipina artist Sal Ponce Enrile was covered by Inquirer USA today
Read Article →
Kun:st International
Artexpo New York listed on Kun:st International
View Article →
My Modern Met
My Modern Met Interview/Inside Scoop of What You Can Expect at Artexpo New York 2019
Read Interview →
New York LED
Artexpo New York Artist listed on New York LED
View Listing →
N.H. Teetelli
Artexpo New York Artist/Photographer N.H. Teetelli coverage in Art & Beyond
View Coverage →
NYCulturebeat
Select AENY exhibitors were chosen by the editor of NYCulturebeat, the popular website for the Korean community in New York
Read Article →
NYC Culturebeat
NYC Culturebeat Announces Artexpo New York 2019
Read Announcement →
Santa Fean Magazine
Artexpo New York in Santa Fean Magazine - February/ March 2019 Issue
View Ad →
Social Eye NYC
Artexpo New York Artist on Social Eye NYC events
View Article →
Shukan New York
Artexpo New York Artist coverage in Shukan New York - The Japan Voice
View Article →

View Article →
The New York News
Artexpo New York article on The New York News
View Article →
Times Square Chronicles
Times Square Chronicles included AENY in its listings
View Listing →
TSNN
Artexpo New York on TSNN events
View Listing →
VICE
VICE covered Cookie's exhibit at AENY and published an online piece on Thursday
Read Article →
YRB Magazine
YRB Magazine article on Artexpo New York
View Article →