ART SANTA FE | POSTPONED TO 2022
Featuring presentations by 60 leading international galleries and emerging artists, innovative artist commissions, and dynamic programs, Art Santa Fe is the hub of one of the country's most celebrated art scenes. Whether you're shopping for your collection or a client, Art Santa Fe makes your hidden gem a whole lot easier to find.
WANT TO EXHIBIT?
Looking to gain more exposure, expand your collector base, and generate buzz for your brand in the third-largest art market in the U.S.? Then Art Santa Fe is the place to be!
WANT TO ATTEND?
Santa Fe has a magical allure that can't be duplicated. It's why experienced collectors and first-time art buyers alike have been flocking to Art Santa Fe for more than 20 years.
VISITORINFO
FAIR HOURS
PUBLIC FAIR HOURS
Friday, July 15, 2022 | 12 PM – 7 PM
Saturday, July 16, 2022 | 11 AM – 6 PM
Sunday, July 17, 2022 | 11 AM – 6 PM
Tickets will be available in spring 2022.
THE VENUE
Taking place at the beautiful Santa Fe Community Convention Center in the heart of the city, Art Santa Fe welcomes its esteemed exhibitors and attendees to a beautiful gallery-style venue.
ACCOMMODATIONS
To ensure your comfort and convenience, we've negotiated exclusive discounts at the El Dorado Hotel, our headquarter hotel, through onPeak, the official housing partner of Art Santa Fe. The onPeak hotel link for Art Santa Fe 2021 will be posted as soon as it becomes available. Check back for updates!
Follow Art Santa Fe on Facebook, Instagram, Twitter, and Flickr to stay up to date with the latest news and announcements.
ART LABS
Art Labs feature specially curated projects by leading galleries, art institutions, and art collectives within the fair.
DISCOVERIES COLLECTION
Art Santa Fe features highly collectible works from across the U.S. and around the world. The Discoveries Collection showcases some of our favorite affordable pieces—each one a great option at $3,000 or less.
ART TALKS
Art Talks offer attendees an inside look at the artistic experience by way of panel discussions, conversations, and provocative artistic discourse with leading artists, curators, designers, and art-industry professionals.
SPOTLIGHT PROGRAM
The Spotlight Program provides collectors a focused look at several cutting-edge galleries and artists recognized for their skill and achievement in the visual arts.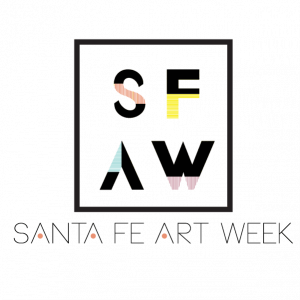 Art Santa Fe is closing out the third annual Santa Fe Art Week, a nine-day festival featuring a myriad of art experiences and events, openings and shows, art talks, workshops, and art walks at some of Santa Fe's 250+ galleries, cultural museums, and attractions.
Go behind-the-scenes at local artists' studios.
Explore 100+ galleries on the Canyon Road Art Crawl.
Listen to live music presented by Santa Fe Bandstand.
Celebrate the city as a vibrant and thriving center for arts and culture.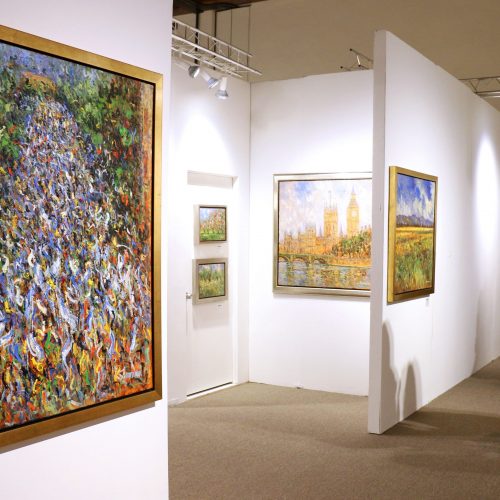 Are wheelchairs allowed?
Yes, we have two wheelchairs on-site. They are available on a first-come, first-served basis. If you require a wheelchair at a specific time, we suggest you make arrangements with our operations manager via email at operations@redwoodartgroup.com.
Are children allowed?
Yes, children of all ages are allowed, and those 15 and under receive free admission. However, children under 16 must be accompanied by an adult, and no strollers are permitted. Oh, and please remind your little ones to never touch the art.
Can I bring my backpack?
For your safety, large bags will not be permitted in the event. Please do not bring suitcases, folding bicycles, scooters, or any items bigger than a handbag or laptop bag.
My dog is super cute and never barks. She can even fit in my purse. Can I please bring her in?
We love pets, too! However, only ADA-certified service dogs assisting handicapped or disabled individuals are permitted inside the venue.
Can I take pictures of the artwork?
Photography of the artwork is only allowed with the exhibitor's permission.
Who is that guy taking my picture?
Press and promotional photography and filming are taking place during the fair. Attendance at the fair implies permission for your image to be used for non-commercial purposes (including media reports).
Can I bring my vape pen?
Smoking or vaping is not permitted on the fair premises.
All Health and Medical Guidelines will be strictly followed, including:
Ticketing pre-registration
Timed entry tickets
Contactless and queued check-in
Health checks prior to entry
All staff, exhibitors, and attendees must wear masks at all times
Booth Sizes & Floor Plans
There's something for everyone with our booth packages and amenities.