Interested in volunteering at one of our fairs? We're always looking for friendly, energetic volunteers.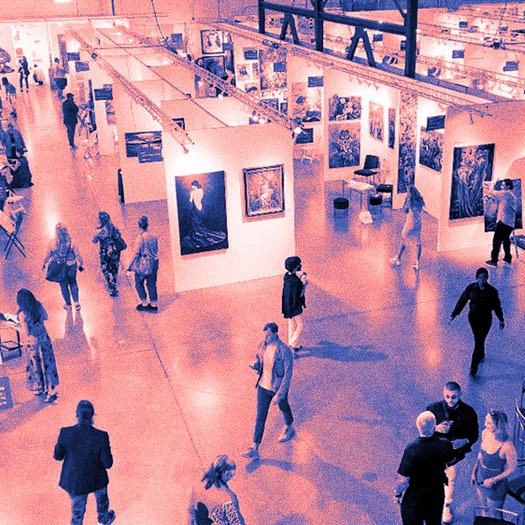 Interested in volunteering for one of Redwood's art fairs? it's an exciting opportunity to gain valuable art industry experience while you assist our team in your area of skills and interest! Simply fill out the form below, and one of our friendly staff will contact you with further details.
BENEFITS INCLUDE
Ten complimentary Show Passes
Go behind-the-scenes into the world of fine art show production
Work closely with management to assist in the following areas: crowd management, show office, registration reception, VIP Lounge reception, meet and greet, etc.
Qualifications
Adults, must be 18 years or older; energetic, attentive with presentable appearance, punctual with friendly demeanor. Background in art, management, or trade shows preferred.
Questions?
Heidi Loewen of Heidi Loewen Fine Art
"You may not know this, but I think you are one of the best fine art show organizers on the planet. I do not say that lightly. I always learn a lot from you. I truly admire what you do immensely. Thank you for being exactly the way you are."
Angela Gonzalez of Art by Gonzalez
"I want to thank Redwood for their professionalism, excellent attitude, and motivation toward exhibitors and the public. They were ready to solve any situation in an extremely efficient way."
Shima Shanti of Peace Waters Fine Art
"The Redwood team: Invested interest. Up close and personal. Honest communication. Integrity and genuine sincerity. On these values, Redwood builds the show's foundation for artists' and exhibitors' success where everything works effectively and efficiently. Top down, Redwood sets an enthusiastic tone that attracts the finest talent and draws in savvy viewers and qualified collectors who leave with the lasting impression of "Wow!"
James Paterson
"Redwood has been wonderful to work with. They are helpful, encouraging, and really care about the artists. The teaching tools they provide are so beneficial."
Ester Shupe of Eric Shupe Collection
"We absolutely love working with Redwood. They make you feel like family, they work really closely with you, and they come and check on you continuously to make sure that everything is going smoothly and if there's anything they can do to help."
Christie Neale of Christie Neale Art
"I have such respect for what you all are doing at Redwood to support artists! I know from a business standpoint sometimes it's easy to lose sight of the original intention. From an artist's point of view, you continue to inspire and give us hope. I always look forward to your postings and celebrate what other artists are creating and their success at your shows."
CONTACTUS
We'd love to hear from you!