VISITORINFO
TRADE, PRESS & MEDIA
(Art Industry Professionals, Gallery Personnel, Designers, Consultants, Art Dealers, Frame Shops, Retailers, etc.)
Credentials required at check in.
Welcome to attend all fair days and hours.
FAIR HOURS
VIP/PRESS PREVIEW
Wednesday, December 6, 2023 | 5PM – 6PM
OPENING NIGHT PREVIEW
Wednesday, December 6, 2023 | 6PM – 9PM
SHOW HOURS
Thursday, December 7, 2023 | 12PM – 8PM
Friday, December 8, 2023 | 12PM – 8PM
Saturday, December 9, 2023 | 12PM – 8PM
Sunday, December 10, 2023 | 12PM – 6PM
THE VENUE
Taking place at the iconic Mana Wynwood in the heart of the thriving Wynwood Arts District and running alongside sister fair Spectrum Miami, Red Dot offers the unique opportunity to connect with blue-chip galleries and emerging artists—all under one roof.
ACCOMMODATIONS
Marriott Biscayne Bay has been newly renovated for your comfort and convenience. Located at Biscayne Bay, Miami, with stunning views, onsite dining, and within reach of nearby Miami nightlife and events.
Marriott Biscayne Bay
1633 N Bayshore Drive
Miami, FL 33132
(305) 374-3900
Rates are available from July 1-November 11, 2023 at
$309 plus $30 Destination Fee plus applicable tax (currently 13%), based on availability.
Destination Amenity Fee:
Room rates will be subject to a non-commissionable prevailing daily Destination fee, currently $30.00 plus applicable tax, will be added to the guest room rate. This fee which is subject to change will cover several amenities which at this time include:
1. Enhanced High-Speed in-room wireless internet for up to 6 devices
2. Daily Dining Credit of $30 per room per night, credit is not cumulative during stay and must be a room charge to apply. This credit is redeemable at Gold Coast Kitchen + Cocktails and a La Carte (in-room dining).
3. Welcome Gift BPA-Free Water Bottle
4. Two Bike Rentals, up to 2 hours per room per stay
5. Daily Yoga or Fitness Class for 2 people per room, one hour, sign up required
6. Two Tickets to Island Queen Cruises & Tours' Millionaire's Row™ Sightseeing Cruise per stay
7. Two Welcome Drinks (redeemable at Gold Coast Kitchen+ Cocktails)
The above rates and Destination fee are subject to applicable tax which is currently 13%.
Follow Red Dot Miami on Facebook, Instagram, Twitter, and Flickr to stay up to date with the latest news and announcements.
ART LABS
Art Labs feature specially curated projects by leading galleries, art institutions, and art collectives within the fair.
SPOTLIGHT Galleries
Spotlight Galleries provides collectors a focused look at several cutting-edge galleries and their artists, who are recognized for their skill and achievement in the visual arts.
DIRECTORS' PICKS
Discover specially selected artworks by the Red Dot Miami fair directors.
DISCOVERIES COLLECTION
Red Dot Miami features highly collectible works from across the U.S. and around the world. The Discoveries Collection showcases some of our favorite affordable pieces—each one a great option at $5,000 or less.
ART FAIR CONFIDENTIAL PODCASTS
Conversations from the fair with gallerists, artists, and attendees offer stimulating insights and dialogues about the art and the art experience.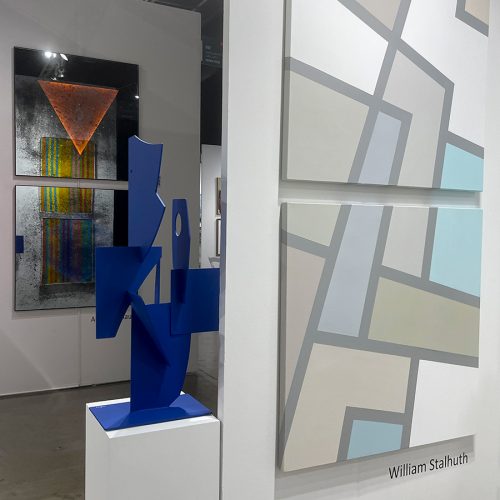 Do you need volunteers to help at the fair?
Yes, we're always looking for friendly energetic people to assist us. Check out our Volunteer Application for more information.
[maxbutton id="7″ url="https://redwoodartgroup.com/volunteer/" text="APPLY TO VOLUNTEER" window="new" nofollow="true" linktitle="Volunteer Application" ]
What COVID-19 precautions are in place for exhibitors and attendees?
The health, safety, security, and wellbeing of all who enter the fair is our number one priority. We have developed and will implement venue plans, policies and procedures to minimize risk and protect our collective health. All federal, state, and county health guidelines will be followed and strictly enforced.
Are wheelchairs allowed?
Yes, we have two wheelchairs on-site for the Red Dot and Spectrum Miami fairs. They are available on a first-come, first-served basis. If you require a wheelchair at a specific time, we suggest you make arrangements with our operations manager via email at operations@redwoodartgroup.com.
Are children allowed?
Yes, children of all ages are allowed, and those 15 and under receive free admission. However, children under 16 must be accompanied by an adult, and no strollers are permitted. Oh, and please remind your little ones to never touch the art.
Can I bring a backpack?
For your safety, large bags will not be permitted in the event. Please do not bring suitcases, folding bicycles, scooters, or any items bigger than a handbag or laptop bag.
My dog is super cute and never barks. She can even fit in my purse. Can I please bring her in?
We love pets, too! However, only ADA-certified service dogs assisting handicapped or disabled individuals are permitted inside the venue.
Can I take pictures of the artwork?
Photography of the artwork is only allowed with the exhibitor's permission.
Who is that guy taking my picture?
Press and promotional photography and filming are taking place during the fair. Attendance at the fair implies permission for your image to be used for non-commercial purposes (including media reports).
Can I bring my vape pen?
Smoking or vaping is not permitted on the fair premises.
Booth Sizes & Floor Plans
There's something for everyone with our booth packages and amenities.
| DATE | SOURCE | HEADLINE | LINK |
| --- | --- | --- | --- |
| 9/1/2023 | Art World News | Spectrum Miami & Red Dot Miami Return To Miami Art Week | September 2023 Issue | View Issue → |
| 9/24/2023 | Miami Herald | Art exhibits all around South Florida from Miami to Palm Beach | View Article → |
| 9/17/2023 | Islander News | Two Fairs Under One Roof return for Miami Art Week | View News→ |
| 9/12/2023 | The Dapper Spot | Spectrum Miami & Red Dot Miami to Return for Miami Art Week 2023 | View Article→ |
| 9/9/2023 | Just Luxe | Spectrum Miami and Red Dot Miami Return to Miami Art Week 2023 | View Guide→ |
| 9/8/2023 | Art Market Magazine | Spectrum Miami and Red Dot Miami Preside over Miami Art Week 2023 | View Article→ |