VISITOR INFO
TRADE, PRESS & MEDIA
(Art Industry Professionals, Gallery Personnel, Designers, Consultants, Art Dealers, Frame Shops, Retailers, etc.)
Credentials required at check in.
Welcome to attend all fair days and hours.
FAIR HOURS
VIP/PRESS PREVIEW
Wednesday, December 6, 2023 | 5PM – 6PM
OPENING NIGHT PREVIEW
Wednesday, December 6, 2023 | 6PM – 9PM
(Must be 21 years old or accompanied by an adult)
SHOW HOURS
Thursday, December 7, 2023 | 12PM – 8PM
Friday, December 8, 2023 | 12PM – 8PM
Saturday, December 9, 2023 | 12PM – 8PM
Sunday, December 10, 2023 | 12PM – 6PM
THE VENUE
Taking place at the iconic Mana Wynwood in the heart of the thriving Wynwood Arts District and running alongside sister fair Red Dot Miami, Spectrum offers the unique opportunity to connect with blue-chip galleries and emerging artists—all under one roof.
HOTEL ACCOMMODATIONS
In today's market, online booking websites provide the most competitive rates, flexible options and allow you to select the hotel that best meets your specific needs. Feel free to make reservations through the booking site of your choice or contact the hotel directly. Redwood Art Group is not affiliated with any booking site and, therefore, cannot act as an intermediary.
Follow Spectrum Miami on Facebook, Instagram, Twitter, and Flickr to stay up to date with the latest news and announcements.
ART LABS
Art Labs feature specially curated projects by leading galleries, art institutions, and art collectives within the fair.
SPOTLIGHT PROGRAM
The Spotlight Program provides collectors a focused look at several cutting-edge galleries and artists recognized for their skill and achievement in the visual arts.
DIRECTORS' PICKS
Discover specially selected artworks by the Spectrum Miami fair directors.
DISCOVERIES COLLECTION
Spectrum Miami features highly collectible works from across the U.S. and around the world. The Discoveries Collection showcases some of our favorite affordable pieces—each one a great option at $3,000 or less.
ART FAIR CONFIDENTIAL PODCASTS
Conversations from the fair with gallerists, artists, and attendees offer stimulating insights and dialogues about the art and the art experience.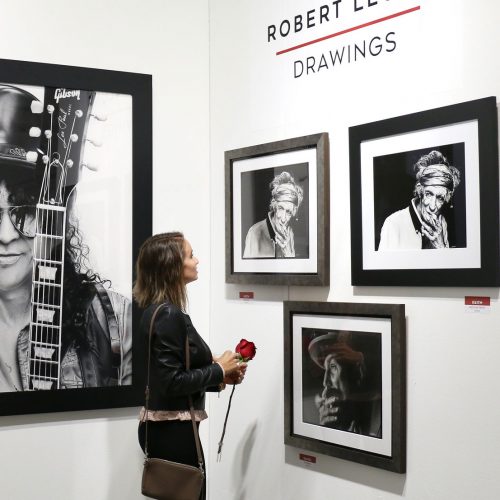 Do you need volunteers to help at the fair?
Yes, we're always looking for friendly energetic people to assist us. Check out our Volunteer Application for more information.
[maxbutton id="7″ url="https://redwoodartgroup.com/volunteer/" text="APPLY TO VOLUNTEER" window="new" nofollow="true" linktitle="Volunteer Application" ]
What COVID-19 precautions are in place for exhibitors and attendees?
The health, safety, security, and wellbeing of all who enter the fair is our number one priority. We have developed and will implement venue plans, policies and procedures to minimize risk and protect our collective health. All federal, state, and county health guidelines will be followed and strictly enforced.
Are wheelchairs allowed?
Yes, we have two wheelchairs on-site for the Red Dot and Spectrum Miami fairs. They are available on a first-come, first-served basis. If you require a wheelchair at a specific time, we suggest you make arrangements with our operations manager via email at operations@redwoodartgroup.com.
Are children allowed?
Yes, children of all ages are allowed, and those 15 and under receive free admission. However, children under 16 must be accompanied by an adult, and no strollers are permitted. Oh, and please remind your little ones to never touch the art.
Can I bring a backpack?
For your safety, large bags will not be permitted in the event. Please do not bring suitcases, folding bicycles, scooters, or any items bigger than a handbag or laptop bag.
My dog is super cute and never barks. She can even fit in my purse. Can I please bring her in?
We love pets, too! However, only ADA-certified service dogs assisting handicapped or disabled individuals are permitted inside the venue.
Can I take pictures of the artwork?
Photography of the artwork is only allowed with the exhibitor's permission.
Who is that guy taking my picture?
Press and promotional photography and filming are taking place during the fair. Attendance at the fair implies permission for your image to be used for non-commercial purposes (including media reports).
Can I bring my vape pen?
Smoking or vaping is not permitted on the fair premises.
Apply
We welcome artists, artist collectives, galleries, and art publishers to apply to our fairs.
Booth Sizes & Floor Plans
There's something for everyone with our booth packages and amenities.
| DATE | SOURCE | HEADLINE | LINK |
| --- | --- | --- | --- |
| 12/1/2023 | Forbes | The B-52s x Save The Chimps, The Best Of Miami Art Week And Beyond | View Article → |
| 11/30/2023 | Forbes | Miami Art Week 2023 Stretches Far Beyond Art Basel Miami Beach | View Article → |
| 11/30/2023 | 7 News Miami WSVN | December brings arts explosion to SoFlo with events in Miami, Opa-locka aiming to draw big crowds | View Coverage → |
| 11/30/2023 | Forbes | The Complete Guide To Art Basel Miami Beach And Art Week Miami 2023 | View Article → |
| 11/30/2023 | Furniture Lighting Decor | Artist Austin Allen James will debut designs and artwork at Spectrum Miami | View Article → |
| 11/30/2023 | EIN Press Wire | Artist Austin Allen James will debut designs and artwork at Spectrum Miami, Florida's prestigious art fair | View Article → |
| 11/28/2023 | Closer Weekly | B-52s Singer Kate Pierson Checks Off 'Bucket List' Item With Save The Chimps Art Exhibit in Miami | View Article → |
| 11/27/2023 | Forbes | 12 Can't-Miss Food-Filled Art Basel Events In Miami This December | View Article → |
| 11/21/2023 | Miami Today | Dozen other art fairs to enliven Art Basel Miami | View Article → |
| 11/21/2023 | Miami Times Online | Art of Black Miami takes center stage during Basel | View Article → |
| 11/20/2023 | Island Origins Magazine | Artist Gavin Jordan's "Hoping for Today's Tomorrow" A Must See at Spectrum Miami Art Fair | View Article → |
| 11/7/2023 | Chase Bank | Miami Art Week Event Guide | View Guide → |
| 11/3/2023 | MENAFN | Artist Gavin Jordan's"Hoping For Today's Tomorrow" A Must See At Spectrum Miami Art Fair | View Article → |
| 11/1/2023 | Miami Today | Miami Art Week return spurs Wynwood arts district | View Article → |
| 11/1/2023 | Spot on Florida | Local Miami Artists Form New Collective to Debut at Spectrum Art Fair | View Info → |
| 11/1/2023 | Miami Living Magazine | Art Issue 2023 | Event Spectrum Miami/Red Dot Miami | View Issue → |
| 10/28/2023 | L'Etage Magazine | SPECTRUM MIAMI & RED DOT MIAMI 2023: Dual Fairs at Mana Wynwood, Dec. 6–10 | View Article → |
| 10/16/2023 | MiamiandBeaches.com | Miami Convention and Visitors Bureau | Spectrum Miami & Red Dot Miami at Mana Wynwood | View Event → |
| 10/12/2023 | Miami Living Magazine | Spectrum Miami & Red Dot Miami Preside Over Miami Art Week 2023 | View Article → |
| 10/9/2023 | The New Yorker | The B-52's Back on the Boardwalk | View Article → |
| 10/4/2023 | InLuxus Magazine | Spectrum Miami & Red Dot Miami Preside Over Miami Art Week 2023 | View Article → |
| 9/1/2023 | Art World News | Spectrum Miami & Red Dot Miami Return To Miami Art Week | September 2023 Issue | View Issue → |
| 9/24/2023 | Miami Herald | Art exhibits all around South Florida from Miami to Palm Beach | View Article → |
| 9/17/2023 | Islander News | Two Fairs Under One Roof return for Miami Art Week | View News→ |
| 9/12/2023 | The Dapper Spot | Spectrum Miami & Red Dot Miami to Return for Miami Art Week 2023 | View Article→ |
| 9/16/2023 | The U.S. Sun | CHIM-PAINT-ZEE Inside the chimp sanctuary where 'brilliant' primates paint 'intricate' pieces of art in collab with legendary band | September 16, 2023 | View Article → |
| 9/9/2023 | Just Luxe | Spectrum Miami and Red Dot Miami Return to Miami Art Week 2023 | View Guide→ |
| 9/8/2023 | Art Market Magazine | Spectrum Miami and Red Dot Miami Preside over Miami Art Week 2023 | View Article→ |