VISITOR INFO
FAIR HOURS
TRADE, PRESS & MEDIA
(Art Industry Professionals, Gallery Personnel, Designers, Consultants, Art Dealers, Frame Shops, Retailers, etc.)
Welcome to attend all fair days and hours.
FIRST LOOK FRIDAY
Friday, Sept. 9 | 12:00PM — 5:00PM
COLLECTORS' VIP OPENING
Friday, Sept. 9 | 6:00PM — 9:00PM
WEEKEND FAIR HOURS
Saturday, Sept. 10 | 11:00AM — 7:00PM
Sunday, Sept. 11 | 11:00AM — 5:00PM
THE VENUE
Taking place at the beautiful San Diego Convention Center in the heart of the city, Art San Diego welcomes its esteemed exhibitors and attendees to a beautiful gallery-style venue.
ACCOMMODATIONS
In today's market, online booking websites provide the most competitive rates, flexible options and allow you to select the hotel that best meets your specific needs. Feel free to make reservations through the booking site of your choice or contact the hotel directly.  Redwood Art Group is not affiliated with any booking site and, therefore, cannot act as an intermediary.
Known for incredible panoramic views of San Diego Bay, the San Diego Convention Center is in a vibrant downtown setting within a mile and a half of more than 11,000 first-class hotel rooms, including four headquarter hotels, and 10 minutes from the airport. Attendees and exhibitors alike will be within walking distance of an array of restaurants, retail stores, and world-class entertainment. Nearby is the historic Gaslamp Quarter, Seaport Village, Horton Plaza, the USS Midway Museum, and Petco Park, home of the San Diego Padres
Taking place at the beautiful San Diego Convention Center in the heart of the city, Art San Diego welcomes its esteemed exhibitors and attendees to an intimate gallery-style venue located along the beautiful waterfront setting of San Diego Bay.
San Diego is one of the nation's most vibrant urban cities—and the convention center is at the heart of all the action. The exhibit space recently underwent a complete renovation and features an industry standard trade show floor, high-tech lighting, and a cooling and heating system for maximum comfort year-round. On-site private vehicle parking is available at the underground garage located below the San Diego Convention Center. And, most importantly, it offers a majestic setting to showcase the leading galleries, exceptional artistic talent, and specially curated programming that has distinguished Art San Diego in Southern California and beyond.
Follow Art San Diego on Facebook, Instagram, Twitter, and Flickr to stay up to date with the latest news and announcements.
ART LABS
Art Labs feature specially curated projects by leading galleries, art institutions, and art collectives within the fair.
SPOTLIGHT PROGRAM
The Spotlight Program provides collectors a focused look at several cutting-edge galleries and artists recognized for their skill and achievement in the visual arts.
[LOCAL TALENT]
Intended to amplify and support San Diego's visual arts community, [LOCAL TALENT] is a curated program featuring artists and designers who represent some of the exceptional talent residing in San Diego county.
San Diego Art Prize
Founded in 2006 by the San Diego Visual Arts Network, the San Diego Art Prize awards a cash prize and exhibition opportunities to established and emerging San Diego visual artists whose achievements merit the recognition—and each year the Art Prize recipients have a featured exhibition at Art San Diego.
DISCOVERIES COLLECTION
Art San Diego features highly collectible works from across the U.S. and around the world. The Discoveries Collection showcases some of our favorite affordable pieces—each one a great option at $3,000 or less.
ART TALKS
MEET THE ARTIST
Is it the artists' creativity, the colors, the images, the messaging — or a combination of it all that draws us to an artist and their work? Meet amazing artists, learn more about their story and creativity, and check out some of their live demonstrations.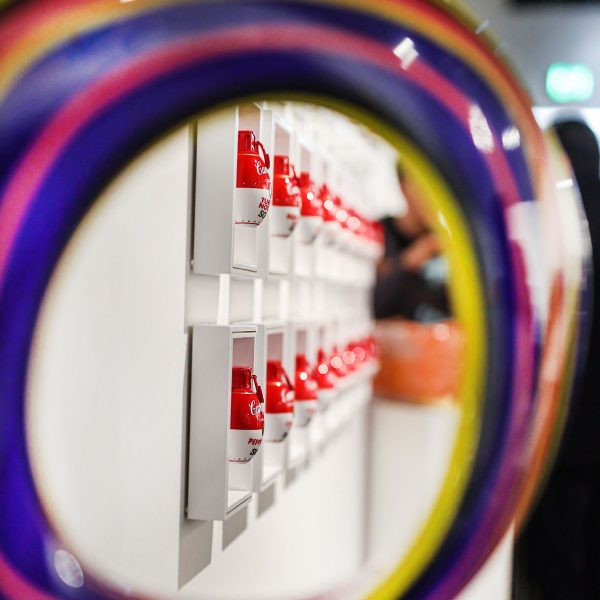 Through Access to Art, Art San Diego, in partnership with UBS Financial Services, works with selected charities and those they serve to share opportunities in art, design, business development, and more. Art San Diego's 2022 Access to Art partners are Monarch School, Humble Design, ARTS DISTRICT Liberty Station, and ArtReach.
Attendees will be able to enjoy special installations from each of our non-profit partners, purchase artwork created for the Access to Art program, while learning more about how each makes the San Diego community a better place to live.
Do you need volunteers to help at the fair?
Yes, we're always looking for friendly energetic people to assist us. Check out our Volunteer Application for more information.
[maxbutton id="7″ url="https://redwoodartgroup.com/volunteer/" text="APPLY TO VOLUNTEER" window="new" nofollow="true" linktitle="Volunteer Application" ]
What COVID-19 precautions are in place for exhibitors and attendees?
The health, safety, security, and wellbeing of all who enter the fair is our number one priority. We have developed and will implement venue plans, policies and procedures to minimize risk and protect our collective health. All federal, state, and county health guidelines will be followed and strictly enforced.
Are wheelchairs allowed?
Yes, we have two wheelchairs on-site for the fair. They are available on a first-come, first-served basis. If you require a wheelchair at a specific time, we suggest you make arrangements with our operations manager via email at operations@redwoodartgroup.com.
Are children allowed?
Yes, children of all ages are allowed, and those 15 and under receive free admission. However, children under 16 must be accompanied by an adult, and no strollers are permitted. Oh, and please remind your little ones to never touch the art.
Can I bring a backpack?
For your safety, large bags will not be permitted in the event. Please do not bring suitcases, folding bicycles, scooters, or any items bigger than a handbag or laptop bag.
My dog is super cute and never barks. She can even fit in my purse. Can I please bring her in?
We love pets, too! However, only ADA-certified service dogs assisting handicapped or disabled individuals are permitted inside the venue.
Can I take pictures of the artwork?
Photography of the artwork is only allowed with the exhibitor's permission.
Who is that guy taking my picture?
Press and promotional photography and filming are taking place during the fair. Attendance at the fair implies permission for your image to be used for non-commercial purposes (including media reports).
Can I bring my vape pen?
Smoking or vaping is not permitted on the fair premises.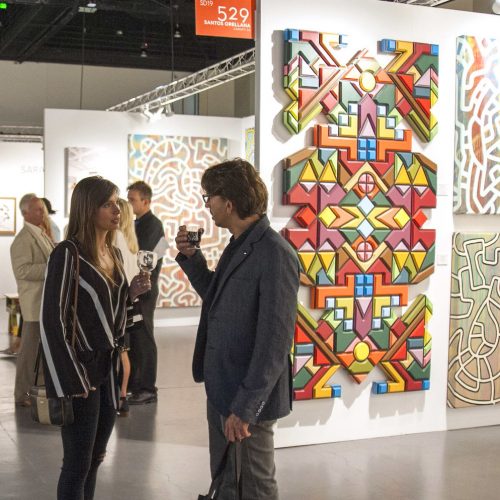 All Health and Medical Guidelines will be strictly followed.
On April 1, 2022, the State's requirement for vaccine verification or proof of negative test was lifted and moved to a strong recommendation.
As of March 1, 2022, the State is no longer requiring masks. Masks are strongly recommended in most indoor settings.
Apply
We welcome artists, artist collectives, galleries, and art publishers to apply to our fairs.
Booth Sizes & Floor Plans
There's something for everyone with our booth packages, and amenities.
Presenting Sponsor

Lead Media Sponsor