Artexpo Dallas
1 TICKET | 2 MAJOR FAIRS | 3 DAYS OF EYE-POPPING ART & DESIGN | 2024 DATES TBA
Dallas is a city on the move. With a growing population and significant job growth in sectors such as technology, design, healthcare, arts & culture, and more, this cosmopolitan center shows no signs of slowing down.
Every fall, throngs of leading designers, retailers, influencers, collectors, and trend experts descend on Dallas for two weeks of showroom events, educational and networking opportunities, open studios, and a bevy of other events exclusively for the design community.
The city features one of the largest concentrations of commercial design firms in the country with a strong representation among the major industry associations.
Dallas Market Hall is a
great location!
Dallas Market Center is the largest open-daily interior design destination in the country, offering 1.5 million square feet of dedicated home and design resources in addition to year-round events and educational opportunities.
It's close to hotels & restaurants
1.5 miles from Design District
15 minutes to DFW International Airport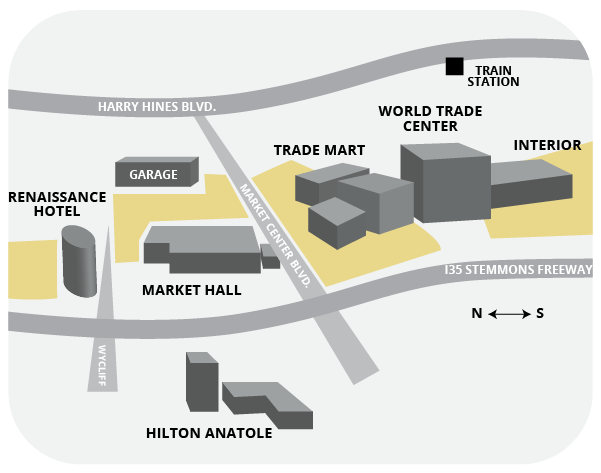 Dallas Design Week Events
Artexpo Dallas
September 16-18 at the Dallas Market Hall,
Dallas Design District
WestEdge Design Fair – for the love of design
September 16-18 at the Dallas Market Hall,
Dallas Design District
Dallas Market Center Design
September 12 – 15, 2022
Texas Design Week Dallas
Dallas Design District
September 19 – 23, 2022
Fair Hours
FIRST LOOK HOURS
Friday, September 16 | 12 PM — 5 PM

VIP / PRESS PREVIEW
Friday, September 16 | 5 PM – 6 PM

OPENING NIGHT PREVIEW
Friday, September 16 | 6 PM – 9 PM

PUBLIC FAIR HOURS
Saturday, September 17 | 11 AM – 7 PM
Sunday, September 18 | 11 AM – 5 PM

THE VENUE
Art Dallas is located at Dallas Market Hall at Dallas Market Center, a leading global marketplace in North America. In Dallas' vibrant Design District, where you'll find interior design showrooms, art galleries, fine-dining, and luxurious apartment homes. With two international airports nearby, the Dallas Market Center is a great destination for collectors and art dealers alike.
ACCOMMODATIONS
In today's market, online booking websites provide the most competitive rates, flexible options and allow you to select the hotel that best meets your specific needs. Feel free to make reservations through the booking site of your choice or contact the hotel directly. Please note that Redwood Media Group is not affiliated with any booking site.
A nearby location with a special rate is provided below.
Tru by Hilton
1949 N Stemmons Fwy, Dallas, TX 75207
(214) 741-3000
Rates are available from September 10-20 and start at
$119 plus taxes and parking (One King or 2 Queen occupancy) based on availability.
You can also call the Hotel's Reservation Department directly at 214-741-3000. Guests must ask for the WestEdge Dallas rate in order to receive this special group rate. Any individual cancellations or changes must be made at least 24 hours prior to the arrival date. The rate is valid until August 21 pending room block availability.
ART LABS
Art Labs feature specially curated projects by leading galleries, art institutions, and art collectives within the fair.
SPOTLIGHT PROGRAM
The Spotlight Program provides collectors a focused look at several cutting-edge artists recognized for their skill and achievement in the visual arts.
DIRECTORS' PICKS
Discover specially selected artworks by the Artexpo Dallas fair directors.
DISCOVERIES COLLECTION
Artexpo Dallas features highly collectible works from across the U.S. and around the world. The Discoveries Collection showcases some of our favorite affordable pieces—each one a great option at $3,000 or less.
ART FAIR CONFIDENTIAL PODCASTS
Conversations from the fair with gallerists, artists, and attendees offer stimulating insights and dialogues about the art and the art experience.
Do you need volunteers to help at the fair?
Yes, we're always looking for friendly energetic people to assist us. Check out our Volunteer Application for more information.
[maxbutton id="7″ url="https://redwoodartgroup.com/volunteer/" text="APPLY TO VOLUNTEER" window="new" nofollow="true" linktitle="Volunteer Application" ]
Are wheelchairs allowed?
Yes, we have two wheelchairs on-site. They are available on a first-come, first-served basis. If you require a wheelchair at a specific time, we suggest you make arrangements with our operations manager via email at operations@redwoodartgroup.com.
Are children allowed?
Yes, children of all ages are allowed, and those 15 and under receive free admission. However, children under 16 must be accompanied by an adult, and no strollers are permitted. Oh, and please remind your little ones to never touch the art.
I'll be sightseeing in Dallas before coming to the fair. Can I bring my backpack?
For your safety, large bags will not be permitted in the event. Please do not bring suitcases, folding bicycles, scooters, or any items bigger than a handbag or laptop bag.
My dog is super cute and never barks. She can even fit in my purse. Can I please bring her in?
We love pets, too! However, only ADA-certified service dogs assisting handicapped or disabled individuals are permitted inside the venue.
Can I take pictures of the artwork?
Photography of the artwork is only allowed with the exhibitor's permission.
Who is that guy taking my picture?
Press and promotional photography and filming are taking place during the fair. Attendance at the fair implies permission for your image to be used for non-commercial purposes (including media reports).
Can I bring my vape pen?
Smoking or vaping is not permitted on the fair premises.
Go behind the scenes, and enjoy one-on-one discussions, success stories, fair highlights, and informative insights from both established and emerging artists at Artexpo Dallas.
Booth Sizes & Floor Plans
There's something for everyone with our booth packages and amenities.
| SOURCE | HEADLINE | LINK |
| --- | --- | --- |
| AARP | Artexpo Dallas | September 16-18, 2022 | View Listing→ |
| Art Market Magazine | The First Annual Artexpo Dallas Presides Over the Lone Star State | View Article→ |
| Art Market Magazine | Artexpo Dallas Get Tickets | View Announcement→ |
| Art Market Magazine | Redwood Art Group Announces The Inaugural Artexpo Dallas | View Announcement→ |
| American Art Collector | American Art Collector September 2022 Issue | View Article→ |
| American Art Collector | American Art Collector Art Fair Calendar September 2022 Issue | View Article→ |
| Art News DFW | Artexpo Dallas | September 16-18, 2022 | View Listing→ |
| Art + Seek | Artexpo Dallas September 16-18, 2022 | Dallas Market Hall | View Event→ |
| Artsology | Artexpo Dallas, September 16-18, 2022 | View Announcement→ |
| Art Week | Redwood Art Group Announces The Inaugural Artexpo Dallas | View Announcement→ |
| Art World News | November 2022 | Ephraim Urevbu | View Article→ |
| Art World News | September/October 2022 | View Ad→ |
| Art World News | July 2022 Issue | View Ad→ |
| Art World News | June 2022 Issue | Announcing Artexpo Dallas | View Announcement→ |
| Art World News | June 2022 Issue | Artexpo Dallas Announcement | View Announcement→ |
| Art World News | Redwood Art Group Announces Artexpo Dallas | View Coverage→ |
| Art World News | Six Fairs Countless Opportunities | View Coverage→ |
| Business of Home, Leading Art & Design | September's Can't Miss Design Events | Dallas Design Week and Texas Design Week | View Coverage→ |
| City Lifestyle Dallas | Artexpo Dallas | September 2022 Issue | View Listing→ |
| Culture Map Dallas | Mega art fair with New York roots makes Texas debut at Dallas Market Hall | View Listing→ |
| Culture Map Dallas | Culture Map Calendar of Events | Redwood Art Group presents Artexpo Dallas | View Listing→ |
| Dallas Design District | Artexpo Dallas | September 16-18, 2022 | View Listing→ |
| Dallas Market Center | Dallas Market Center Announces Artexpo Dallas + WestEdge Design Fairs | View Newsletter→ |
| DART Transport | Artexpo Dallas | September 16-18, 2022 | View Listing→ |
| D Magazine | 7 Must-Haves We Saw at the Westedge Design Fair along with Artexpo Dallas | View Coverage→ |
| D Magazine | D Magazine Announces Artexpo Dallas | View Coverage→ |
| Dallas Morning News | Artexpo Dallas | September 16-18, 2022 | View Ads→ |
| Dallas Observer | Dallas Observer Newsletter September 12, 2022 | View Ad→ |
| Dallas Weekly | Artexpo Dallas Post Fair Report | October 23, 2022 | View Listing→ |
| Dallas Weekly | Artexpo Dallas | September 16-18, 2022 | View Listing→ |
| Glasstire | Artexpo Dallas 2022 Event Programming | View Listing→ |
| Glasstire | Artexpo Dallas | September 16-18, 2022 | View Listing→ |
| Glasstire | Glasstire Texas Visual Art Newsletter September 12, 2022 | View Listing→ |
| INLUXUS Magazine | INLUXUS Magazine Announces Inaugural Artexpo Dallas | View Coverage→ |
| Kera News | There's a new art expo heading to Dallas | View Coverage→ |
| Local Profile | Local Profile | Things To Do September 14, 2022 | View Coverage→ |
| Luxury International Magazine | Redwood Art Group Announces Inaugural Artexpo Dallas | View Coverage→ |
| Luxuria Lifestyle International Magazine | The Inaugural Artexpo Dallas Marshalls the Art World in Texas | View Article→ |
| Luxuria Lifestyle International Magazine | Redwood Art Group Announces Inaugural Artexpo Dallas | View Article→ |
| Modern Luxury Magazine | Dallas Design Week | View Ad→ |
| Paper City Insider | Artexpo Dallas | WestEdge Design | September 16-18, 2022 - Get Tickets | View Newsletter→ |
| Patron Magazine | Artexpo Dallas | WestEdge Design - By Design | View Article→ |
| Philanthropy Lifestyles Dallas | Philanthropy Lifestyles Dallas - Artexpo Dallas - 10.2.22 | View Article→ |
| Society Life Magazine | Society Life Magazine | July 2022 | Artexpo Dallas | WestEdge Design | September 16-18, 2022 | View Article→ |
| The Art Guide | Artexpo, the world's original art fair, comes to Dallas | View Listing→ |
| The Top Daily News | Artexpo Dallas Spotlight Gallery Recipient: Rodney Asikhia Gallery | View Article→ |
| The Top Daily News | Artexpo Dallas Spotlight Artist Recipient: Leticia Herrera | View Article→ |
| Tour Texas | Artexpo comes to Dallas September 16-18, 2022 | View Event→ |
| Visit Dallas | Artexpo comes to Dallas September 16-18, 2022 | View Event→ |
| WestEdge Design | WestEdge Design September 9, 2022 Newsletter | View Newsletter→ |
| Widewalls | Redwood Art Group Announces the First Edition of Artexpo Dallas | View News Feed→ |