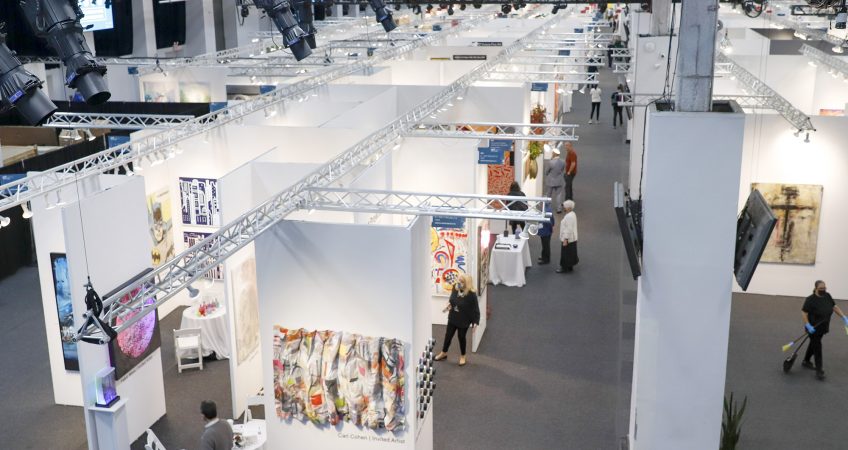 ARTEXPO NEW YORK 2021'S HIGHLIGHTS
Artexpo New York, the world's original fine art marketplace and longest running contemporary art show, came back after a two year hiatus to its new home at Pier 36 in the trendy Lower East Side of Manhattan, October 28—31, 2021. This year's fair hosted more than 150 innovative international and national galleries, art publishers, and artists, showcasing original work of literally hundreds of artists, including prints, paintings, drawings, sculptures, photography, ceramics, giclees, lithographs and glass works, among other contemporary and fine art.
With continued pandemic challenges, exhibitors and attendees alike were excited to be back to a live in-person fair. According to major event research on attendance as the country begins to open up after the pandemic shutdown, attendance was predicted to be 30-40% of what it had been in the past. Artexpo New York was right on track with 8,170 ticket registered and an actual attendance of just over 6,500 during the 4-day fair.
Engaging exhibitors and attendees alike with the curatorial theme, Artexpo New York presented [PERSPECTIVE] as the curatorial theme for 2021 – examining the courage to be different, to present a new vision, and pushing the boundaries of art forward, making us believe, if just for a moment, that anything is possible. Throughout its four historic decades in contemporary and fine art, Artexpo New York has hosted the likes of Andy Warhol, Robert Rauschenberg, Keith Haring and Leroy Neiman; intensifying the discourse on today's industry challenges and magnifying the very best the fine art world has to offer.
ATTENTION GRABBING PROGRAMMING
Aimed not to disappoint, Artexpo's iconic programming once again caught the attention of fair goers and media alike. This year, the special programs ranged from immersive artist-led experiences to compelling seminars and today's most pressing industry challenges and trends. The three main programs included Art Labs, the Spotlight Program, and Topics & Trends.
The Spotlight Program provided collectors with a focused look at several galleries and prominent artists who created a site-specific exhibition. Spotlight Program recipients for 2021 included:
Erik Jensen
Jay Chung
Tom Lohner
Caroline Bergeron / ARO
James Venuti
Michele Riche
Learn more about each of them in the feature article in Art Business News!
Attendees once again enjoyed an extensive Meet the Artists program of activity during the four days of Artexpo New York, which included live demonstrations in each exhibition booth by the artists themselves.
This year's Education Program included an extensive series of Topics & Trends seminars, moderated panel discussions and Art Talks, presented by today's most influential pioneers from the arts industry. Some of the most popular subjects were Secrets of the Art World for Artists, 10 Tips for Sales Success, Art Talk: Two Dynamic Women Artists, Art Licensing: Opportunities, Challenges and Legal Issues, and 10 Tips on Building a Beautiful Art Collection.
SALES & SUCCESS STORIES
The number of sales and commissions reported throughout the show this year was impressive, as were the gallery placements by [SOLO] artists. Here is a brief sampling of highlights from this year's exhibitor sales:
Sammoun Fine Art – an Artexpo New York exhibitor for more than 20 years – success began on Thursday's Trade Day and continued throughout the show, placing more than a dozen of his original oils with prices ranging from $10,950 to $47,000, including October and Central Park.
Jackie Fuchs' Studio Jackie was full of action and sold several of Jackie's works, including her dog sculpture Good Dog and Bad Dog, plus Rainy Days & Mondays and several other pieces, including Love Spray by Consumr. Pieces ranging from $750 to $5,500.
First time exhibitor K-Art Projects USA reported having a good show with sales of Dreamers by Fabio Mesa; Grandma's Surprise by Diana Vurnbrand; Tell Me Beautiful Untrue Things by Elizabeth Pruna; and several other pieces. All ranging in price from $2,000 to $6,000.
Art Design Consultants (ADC) returned to Artexpo for the first time in several years and took home robust sales for Ken Rausch and others in their busy booth.
Gallery Edel returned from Japan with great art and were rewarded with robust sales.
ArtNWordz was also once again successful with their mixed media works, with sales ranging from $600 to $6,000.
The artworks at Art Gallery Pure's booth not only brought attendees into the booth, but resulted in sales for artist Julia Ross, Hunter Connor, Daniela Pasqualini, and Joseph Raymond.
Jason Perez Gallery's booth was busy and sold multiple pieces for Jason, as well as Diane Portwood and others in the mix.
---
2021 ARTEXPO NEW YORK AWARD WINNERS
On Saturday, while showgoers sipped Pommery Champagne, artists and galleries received special honors as we handed out this year's Artexpo Awards. Here are this year's winners:
BEST BOOTH DESIGN: Gelbart Studio, Art Bond, and Studio Jackie
RISING ARTIST: Matthew Usukunah
BEST INTERNATIONAL EXHIBITOR: Anna Art Publishing, Hexigon Artist Kumiko Mametsuka, South Trip Gallery, and P.S Grig Art
DIRECTORS' AWARD: Felton Weller, Perseus Gallery, and Art Rocks Design
AWARD OF EXCELLENCE: Robert Rustermier, Sammoun Fine Art, ArtNWordz, Mari Nishanura, Diego Victoria Gallery, and Ellen Qiongzhao
LIGHTS, CAMERA, ACTION! THE MEDIA BUZZED!
It's no wonder — one of New York's iconic art fairs returns after a challenging 18+ months — and the media was buzzing! Coverage included a shout-out in DCMetro Theater Arts, Art Fair Magazine, Digital Journal, Luxuria Lifestyle International, and others. We also reached more than 150,000 fans via social media, offering followers around the world up-to-the-minute event tidbits and photos on Facebook, Twitter, and Instagram. Thanks to everyone liking and following us on our social media channels—we love keeping you engaged! And last but not least be sure to check out all the video highlights from this year's show here.
---
EXHIBIT IN 2022
Whether you see Artexpo New York as the place to grow your business or the place to be discovered, your exhibition will definitely give galleries, trade buyers, and art collectors from all over the world the chance to see what you can do. Returning to Artexpo after exhibiting this year or inspired by this year's event and want to give exhibiting a shot yourself? Don't wait to apply as prime space is already filling up. Apply for Spring 2022 here—or contact our Sales team—we're here to help you.
We would like to extend a huge thank you to the countless exhibitors, collectors, galleries, and artists who played a part in Artexpo New York 2021. We would also like to thank our sponsors for making this year's event one of the best. We are looking forward to seeing you again in the Spring, April 7-10, at Pier 36!