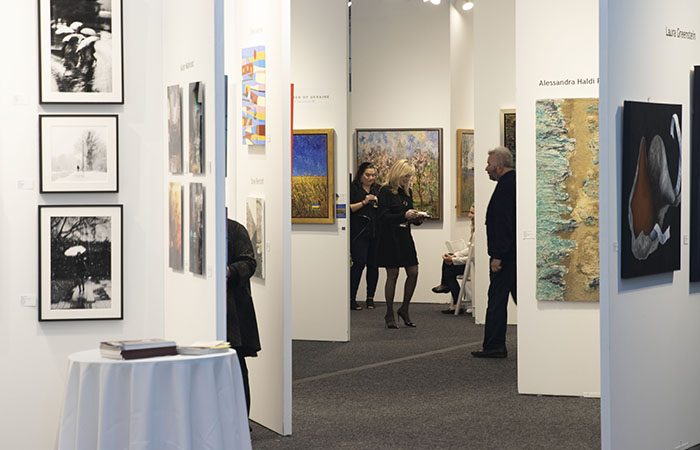 ARTEXPO NEW YORK 2022 HIGHLIGHTS
Artexpo New York, the world's original fine art marketplace and longest running contemporary art show, was back to its usual Spring fair in its new home at Pier 36 in the trendy Lower East Side of Manhattan, April 7—10, 2022. With more than 150 innovative international and national galleries, art publishers, and artists, showcasing original work of literally hundreds of artists, the fair floor was full of excitement and energy — not to mention sales!
Artexpo New York celebrated its 45th year with a notable resurgence from the art industry and collectors who were eager to discover the latest trends shaping the art world. More than 18,000 avid art enthusiasts came out to enjoy the hundreds of exciting and original artworks that exhibitors from 14 countries put on display, including prints, paintings, drawings, sculpture, photography, ceramics, giclees, lithographs and glass works.
ATTENTION GRABBING PROGRAMMING
Aimed not to disappoint, Artexpo's iconic programming once again caught the attention of fair goers and media alike. The Spotlight Program, a focused look at several cutting-edge galleries and artists chosen by the Redwood Art Group selection committee, engaged attendees alongside Art Labs, a series of outstanding projects by leading galleries, art institutions, and art collectives within the fair. There were Meet the Artists and Live Demonstrations sessions daily, presenting an interactive experience—allowing attendees to get up-close-and-personal with the artists — and Art Talks, conversations with today's most influential art pioneers on a variety of topical themes.
The Spotlight Program provided collectors with a focused look at several galleries and prominent artists who created a site-specific exhibition. Spotlight Program recipients for 2022 included:
Will Schmahl from Works By Will
Erick Picardo from Picardo Colors
John Dowling from John Dowling Fine Art
Jeremiah Heller, curator from End-to-End Gallery
Gregory Bedford from Bedford Fine Art
George & Mikheil Mikaberidze from George & Mikheil Family Art
Learn more about each of them in the feature article in 
Art Business News!

The compelling subjects and themes for
Art Talks
were developed by the Artexpo New York selection committee, featuring some of today's most prominent leaders from the arts business world, complete with interactive audience Q&As that took place daily on the upper Mezzanine
level at Pier 36. Topical conversations for the Art Talks 2022 series included
Turning Textiles in to Art, Origins of Inspiration, Storytelling Through Art, From Warhol to Banksy—A History of Pop Art, Two Dynamic Women Artists, 
and
 Inherently Imperfect.
This year's
Art Labs
featured a series of outstanding projects by leading galleries, art institutions, and art collectives presented on-site within the fair, and included
A Peaceful Earth Experience
and
 The City Never Sleeps
 by Art Gallery Pure,
For the Children of Ukraine
 by Sammoun Fine Art, and
Super 80s
 by K—Art Projects.
SALES & SUCCESS STORIES
The number of sales and commissions reported throughout the show this year was impressive, as were the gallery placements by [SOLO] artists. Here is a brief summary of highlights from this year's exhibitor sales.
Jeremiah Heller, curator from End-to-End Gallery had excellent success throughout the show, placing Martin Whatson's "Panda," "Pull Back," "The Catch," "Rock Climber" and "Connection" at $500 to $5000; as well as placing multiple sales of Mr. Brainwash's "Flowers" for more than a combined $8000.  End-to-End Gallery placed a total of 14+ pieces  over the four days with more expected post-fair.
Artavita – World Wide Art placed a number of its most popular works from its artists at prices undisclosed, including pieces by Cladjizza, Piero Gianfrancheschi, Marie Aberhard, Vanessa Wahorl, Madeleine Schachter and Maria Cristina Lattes.
Samir Sammoun of Sammoun Fine Arts, a Redwood Art Group exhibitor for more than 20 years, proved to be one the most successful exhibitors with pieces placed that included "Parasols Rouge" at $4,750; "La Printemps" at $15,750; "CypressSoliel II" at $15,750;  "Champ de Ile" at $16,750; "Elegance" at $8,850; "Au Bord du St-Laurent" at $6,000; "September in the Mediterranean Shore" at $4,750; "Sunrise on the Beach" at $4,750; "Music" at $5,100; "Wheat Field Study" at $2,600, and his "Peace" for proceeds donated to UNICEF, that sold for $15,750.
K-Art Projects USA came out with placing a total of eight pieces by artists Mher Khachatryan, Lucienne Toledo (4 pieces), Adriana Dorta, Diana Vurnbrand, Betiana Bradas, Gregg Emery, Andre Paul Croteau and Patrizia Casagranda.
 CHT_NYC_Art placed multiple works by artists Tim Saternow, Carole McDermott, and Helene Mukhtar.
ADC Fine Art placed works by artists Marissa White, Mike Elsas (7 pieces), Ken Rausch, Doug Powell and Terri Halman.
ArtNWordz placed 60+ pieces, ranging from prints at $40 to originals at $2,700 to $6,000, including "Marilyn," "The Umbeatles," and "Frida Rose," among others.
Art Love Gallery represented its artists well with more than 50 pieces placed, including Gary Rosen's "Dope," and "Page 6," Jackie Fuchs' "Designer Pets," "Designer Art," "Living Color," "Bad Dog" and "Mod" series; "Love Spray," "Basquit," "David Bowie," "Panda Bags" and "Money Bags" by Con$umer; Pitch Black's "Luxury Cat," as well as "Bad Fruit," "Designer Fruit," "Pop Art" and "DP" by Peter Marcus Green, and Amy Shekhter's "Reign On Me" and "Niomi."
Artist Adi Oren sold a remarkable 11 paintings in total, including "Union" at $3,200; 'Golden Gal" at $3,200; "Soaring" at $1,300; "Red Set Go!" at $1200; "Golden Gal in Yellow" at $2,000; "Freedom Flier" at $3,900; "Victory" at $3,200; "Diver in Red" at $3,200 and "El Toro at $12,000.
The Chadwick Concepts by Chadwick Accinue placed multiple pieces of his work also, including "Beneath the Surface" at $4,500; "Color Scapes Chalk Study 1" at $7,500; "Colorscapes Gray Study 2" at $7,500 and "Ever More She Dazzles" at $4,500.
Artists and galleries were presented special honors as recipients of this year's Artexpo Awards. This year's proud winners were the following:
BEST BOOTH DESIGN: Adi Oren and Art Gallery Pure
SCULPTURE: Aghassi and Mattson's Fine Art
BEST NEW EXHIBITOR: Philip Josef Glass Art Gallery and CHT_NYC_ART
BEST INTERNATIONAL EXHIBITOR: Singulart and Svenska Konstgalleriet
DIRECTORS' AWARD: Artavita/World Wide Art and K-Art Projects
BEST [SOLO] EXHIBIT: EFX and Roger Hsia
AWARD OF EXCELLENCE: Madeleine Cohen, Art Love Gallery, Nazli Kalayci Art Dealer and Addo Contemporary Art
LIGHTS, CAMERA, ACTION! THE MEDIA BUZZED!
It's no wonder — one of New York's iconic art fairs returned to its usual Spring dates for its 45th edition — and it had the media was buzzing! Coverage included a shout-out in DCMetro Theater Arts, Design & Style Report, Art Market Magazine, Elevated Magazine, Hyperallergic, Luxury International, Widewalls, and others. We also reached more than 150,000 fans via social media, offering followers around the world up-to-the-minute event tidbits and photos on Facebook, Twitter, and Instagram. Thanks to everyone liking and following us on our social media channels—we love keeping you engaged!
Want to relive it? Step onto the fair floor and listen to podcast interviews with gallery owners and artists on Art Fair Confidential. And check out all the video highlights from the fair here. 
WITH OUR THANKS!
We would like to extend a huge thank you to the countless exhibitors, collectors, galleries, and artists who played a part in Artexpo New York 2022. We would also like to thank our sponsors for making this year's event one of the best. We are looking forward to seeing you again for Artexpo New York 2023 — March 30-April 2 at Pier 36!