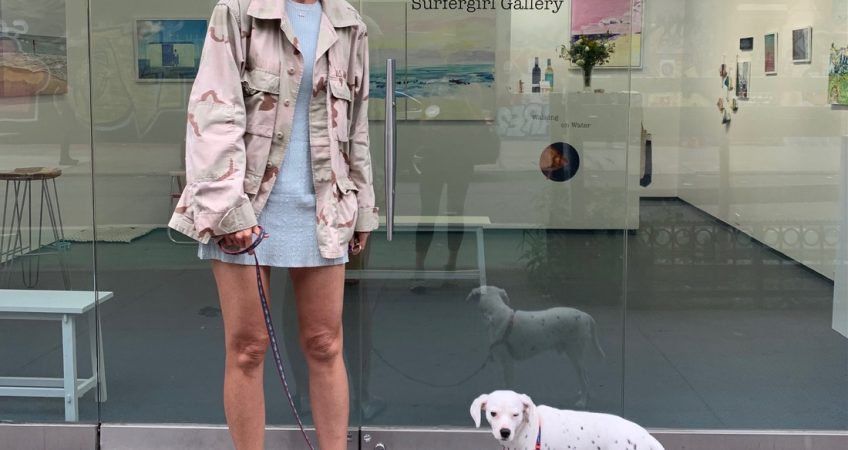 Meet the Artist: Surfergirl Gallery
Surfergirl Gallery is one of the Spectrum Miami's 2021 Spotlight Recipients.
Q. Introduce yourself — who you are and what you do?
I'm Marcia Lorente Howell and I'm the founder of Surfergirl Gallery. We're the first gallery in New York City to specialize in emerging women artists. I'm an oil on canvas artist myself with a career in advertising, and I started the gallery to get more women artists into museums in my lifetime.
Q. What is your background?
A. I'm a New Yorker from Madrid with California sunshine in my blood. I take no credit for my art, I'm the granddaughter of two women artists. I'm also a global marketer with proof that visual arts hold the key to people's hearts. Surfergirl also works with brands that like us, believe in sustainability and making art more accessible.
Q. How do you work?
A. I take photos on my iPhone of places I love and then I paint them. I'm capturing a moment. It is not exactly what I saw or the camera captured but how it made me feel. I convey that with color, composition, and use of negative space. As an artist I say I'm a surfer, I'm riding a wave and want to take you with me. 
Q. What art do you most identify with?
A. I'm a modern impressionist. I adore Van Gogh and Monet but I paint on the floor like Pollock or Frankenthaler. I paint fast and painting gives me so much joy that I think it shows. I call it Arte Feliz, Happy Art. Every artist at Surfergirl Gallery creates art that feels good, that's our common philosophy, good vibes and optimism.
Q. What artist(s) inspires you?
A. Besides the impressionists I worship Sorolla's use of light and Goya's use of color. I'm also a huge fan of Street Art and Warhol, I believe art should be everywhere not just in museums. 
Q. What is the best advice you've received?
A. Picasso's "learn the rules like a pro so you can break them like an artist". 
Q. When you are not working, where can we find you?
A. Walking my dog Elvis all over the West Village. He's my muse.
Q. What does exhibiting at Spectrum Miami 2021 mean to you?
A. It means I get to support the dream that is Surfergirl and other women. Constanza Laguna who is an exceptional sculptor and a dear friend, we went to high-school together in Madrid and share a passion for Arte Feliz. And Shana Roark, a Street poet I met at a group show in Chelsea who changes lives with her words.