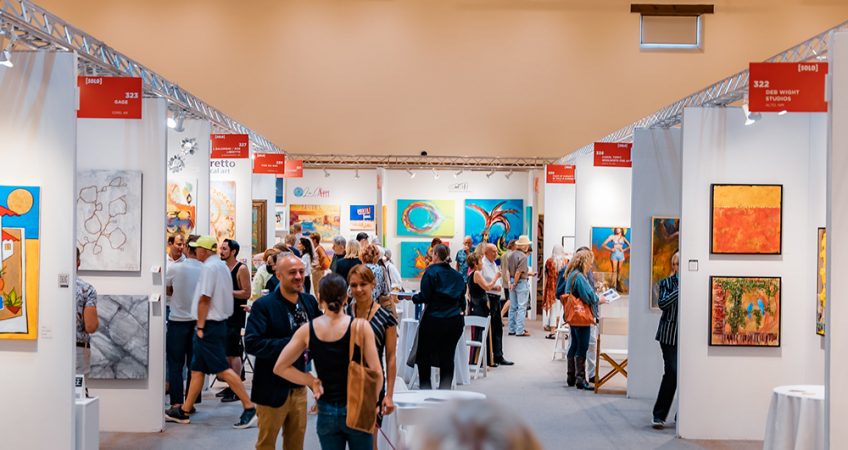 ART SANTA FE 2022 HIGHLIGHTS
Art Santa Fe celebrated 22 years in July and a successful comeback after a three year hiatus. Running July 15–17 at the beautiful Santa Fe Convention Center, Art Santa Fe featured extraordinary artwork from local, national, and international galleries, as well as extraordinary show programming, live entertainment, and other exclusive events.
Attendees strolled the aisles of cutting-edge works, sipping a glass of Pommery Champagne, deciding which artwork to add to their collection. With 65+ innovative international and national galleries, art publishers, and artists, showcasing original work of literally hundreds of artists, the fair floor was buzzing every day — not to mention sales and commissions!
ATTENTION GRABBING PROGRAMMING
Aimed not to disappoint, Art Santa Fe's programming caught the attention of fair goers. The Spotlight Program, a focused look at several cutting-edge exhibitors selected by the Redwood Art Group curatorial committee, engaged attendees alongside Art Labs, a series of outstanding projects by leading galleries  and art collectives within the fair. There were Meet the Artists and Live Demonstrations sessions daily, presenting an interactive experience—allowing attendees to get up-close-and-personal with the artists.
The Spotlight Program provided collectors with a focused look at four featured  artists and galleries who created a site-specific exhibition. Spotlight Program recipients for 2022 included:
Learn more about each of them in the feature article in Art Business News!

This year's Art Labs featured a series of outstanding projects by leading galleries, art institutions, and art collectives presented on-site within the fair, and included Intertwining Expressions of Life by Contemporary Art Projects USA; A Peaceful Earth Experience by Art Gallery Pure; and Tokens of Memory — The Miniature Portrait Project by Conde Contemporary,
AWARDS AND RECOGNITION
Artists and galleries were presented special honors as recipients of this year's Art Santa Fe Awards. This year's proud winners were the following:
BEST BOOTH DESIGN: Beverly Todd, Conde Contemporary, and Blink Group

SCULPTURE: Contemporary Art Projects USA and Foundry Michelangelo

BEST NEW EXHIBITOR: Macqueen, John Milu Truesdale, and Conner Liljestrom

BEST INTERNATIONAL EXHIBITOR: Xiao He

DIRECTORS' AWARD: David Disko Art, William Havu Gallery, and Ray Tigerman Studios

BEST [SOLO] EXHIBIT: Shan Ogdemli Art, Edica, and Gage

AWARD OF EXCELLENCE: Peter E. Lynn and ADC Fine Art
LIGHTS, CAMERA, ACTION! THE MEDIA BUZZED!
It's no wonder — one of Santa Fe's iconic art fairs returned for its 22nd edition — and it had the media was buzzing! Coverage included a shout-out in Art Market Magazine, Southwest Contemporary, SantaFe.com, Luxury Travel Magazine, Pasatiempo, Widewalls, and others. We also reached more than 150,000 fans via social media, offering followers around the world up-to-the-minute event tidbits and photos on Facebook, Twitter, and Instagram. Thanks to everyone liking and following us on our social media channels—we love keeping you engaged!
Want to relive it? Step onto the fair floor and listen to podcast interviews with gallery owners and artists on Art Fair Confidential. And check out all the video highlights from the fair here. 
WITH OUR THANKS!
We would like to extend a huge thank you to the exhibitors, collectors, galleries, and artists who played a part in Art Santa Fe 2022. We would also like to thank our sponsors and partners for making this year's event one of the best. We are looking forward to seeing you again for Art Santa Fe 2023 — July 14-16 at the Santa Fe Convention Center!