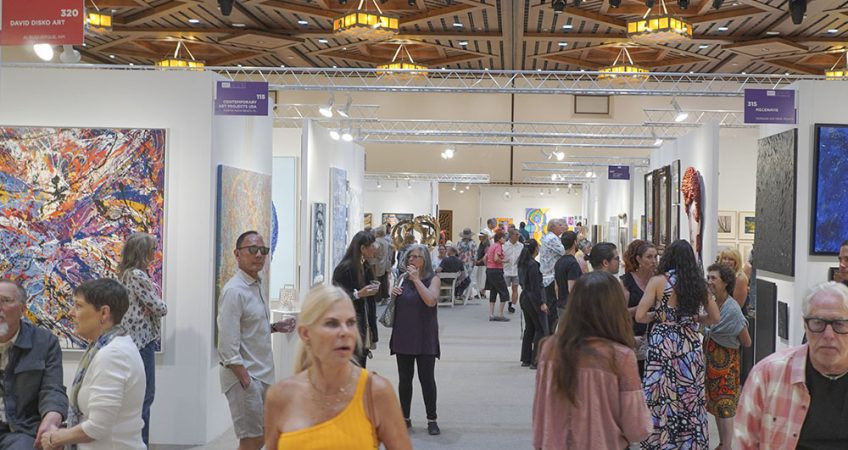 ART SANTA FE 2023 HIGHLIGHTS
Art Santa Fe celebrated its 23rd edition July 14–16 at the beautiful Santa Fe Convention Center, showcasing extraordinary artwork from local, national, and international galleries, as well as exciting show programming and other exclusive events.
Attendees strolled the aisles of cutting-edge works, finding the perfect piece to add to their collection. With 90+ innovative international and national galleries, art publishers, and artists, showcasing original work of literally hundreds of artists, the fair floor was buzzing every day — not to mention busy with sales and commissions!
ATTENTION GRABBING PROGRAMMING
This year's Art Santa Fe's programming and events kept fair goers busy and exploring. Whether finding the Discoveries Collection, meeting the recipients of  the Spotlight Program, or engaging in the Art Labs' series of outstanding projects, there was much to see and do. There were Meet the Artists and Live Demonstrations sessions daily, presenting an interactive experience—allowing attendees to get up-close-and-personal with the artists.
The Spotlight Program provided collectors with a focused look at four featured  artists and galleries who created a site-specific exhibition. Spotlight Program recipients for 2023 included:
This year's Art Labs featured a series of outstanding projects by leading galleries, art institutions, and art collectives presented on-site within the fair, and included A Time for Africa, from The African Spirit Collection, by Contemporary Art Projects USA; A Matisse Art Activity by Santa Fe Children's Museum; the artists from the Redwood Art Collective; Wild Planet Collection from the Save the Chimps artists in collaboration with The B-52's band; and the Santa Fe Gallery Association Pop-Up Exhibition.
AWARDS AND RECOGNITION
Artists and galleries were presented special honors as recipients of this year's Art Santa Fe Awards. This year's proud winners were the following:
BEST BOOTH DESIGN: Mecenavie Gallery and Jen Tough Gallery
SCULPTURE: Griego
BEST NEW EXHIBITOR: GVG Contemporary and Muse Art Services
BEST INTERNATIONAL EXHIBITOR: Jennifer Zizman and Edel # Art
DIRECTORS' AWARD: Contemporary Art Projects USA
BEST [SOLO] EXHIBITOR: Elizabeth Frank and Rokoko
AWARD OF EXCELLENCE: Jewel Edward Cundiff, Edel # Art, and Anatoliy Anshin
SALES & SUCCESS STORIES
The number of sales and commissions reported throughout the show this year was impressive, as were the gallery placements by [SOLO] artists. Here is a brief look at some of this year's reported exhibitor sales.
Contemporary Art Projects USA celebrated their 13th year at Art Santa Fe placing seven pieces by artists Hande Agur, Merrill Steiger, Alea Pinar Du Pre, Cristiam Ramos, Sara Wight, with prices ranging from $3,000 to $10,000. Several additional sales and a commission were reported to have been made in the week following the fair.
ArtNWordz placed 15+ pieces, ranging from prints at $40 to originals priced at $2,700 to $5,000, including The Mathematician and RBG among others.
Jen Tough Gallery returned to Art Santa Fe representing the new gallery in Santa Fe and successfully placed 7 pieces for her artists, including works by Sheila Metcalf Tobin, Anne Morrison Rabe, Liz Steketee, and Diane Wang.
David Disko's booth was a popular destination with multiple works sold, including Image at Sunrise, Sunset Silhouette No. 2, Conflagration No. 2, Prickly Pear with Sunset Backdrop No. 2, Sunset Blush, From Museum Hill, Mountain, Cars and Trucks, Blossoms, Fruit and Shadows, and Moon and MiCasa.
Jen Starwalt had good sales, selling over 10 of her prints, plus her Burrowing Owl original at $2,700.
Dana Swedo rocked with collectors loving her works, including October Sun, Twilight Blue, Sienna and Sand, Vintage Patchwork, Reflections of Blue, Turquoise Clouds, Echoes in the Dark, Rhythm of Stillness, After the Storm, and Indigo Sky.
Edel # Art returned to Art Santa Fe for the first time post-pandemic and collectors loved it! Sales at the fair included Yayoi Kusama's Mirror Box Red,  Mayuko Hanai's Equal, Kazuo Tanaka's Scanno, Sulebox's Magic Equivalent Exchange and Just a Fact, plus pieces by Neko Shimada and Emiko Shibata.
Griego was pleased to present his daughter, Nya Griego, who placed her mixed media sculptures Skeleton Key and War Bubble. Griego also place two of his sculptures Earthbound and Scarecrow's Wife and had inquiries for others and commissions.
Michele Thompson, a first-time Art Santa Fe exhibitor, found new homes for most of her collection, including her Ireland Series of 13″ x 16″ oils on canvas: Storm Foot Over Galway, The View From the Studio in Galway, The Maumturks, Impression of Black Rock Beach, A Morning Sky, A Spontaneous Sunrise, Mam Ean Pass, and Another Spontaneous Sunrise. She also placed O'Brien's Tower and Atop the Cliffs of Moher.
Victoria Veedell placed her oil on canvas originals Golden Hour and Saturday Morning. 

Ruth Andre, another first-time Art Santa Fe exhibitor, sold 10 of her Native People originals to a gallery owner from Puerto Rico, and post-fair took commissions for two additional Native People, plus sold four of her abstracts.

Ouida Touchon placed Midnight Cowgirl Redux, a 31″ x 31″ mixed media on canvas at $3,300.
Ryan "Rhino" Franklin placed his sculpture Smells Like Bullshit at $2,899 and delivered it to the happy collector.
Rokoko placed 10 of their vibrantly colored works, including Petal Power,  Answers Revealed, Tree of Knowledge, Believe, Forest One, Clucking Around, Life in Bloom, and Magic Moment.
Save the Chimps was busy the entire fair telling the story of the chimp sanctuary in Florida and the art collaboration with The B-52's band. They placed more than half of the Wild Planet Collection, including Queen of Las Vegas, Planet Claire, Strobe Light,  Private Idaho, Lava,  Runnin' Around, The Shy Tuna, Devil in My Car, Dance the Mess Around, 53 Miles West of Venus, and Wild Potato, with prices ranging from $750 to $5,000.
LIGHTS, CAMERA, ACTION! THE MEDIA BUZZED!
It's no wonder — one of Santa Fe's iconic art fairs returned for its 22nd edition — and it had the media was buzzing! Media coverage included a shout-out in American Art Collector, Southwest Contemporary, SantaFe.com, Santa Fe New Mexican, Pasatiempo, and others. We also reached more than 175,000 fans via social media, offering followers around the world up-to-the-minute event tidbits and photos on Facebook, Twitter, and Instagram. Thanks to everyone liking and following us on our social media channels—we love keeping you engaged!
Want to relive it? Step onto the fair floor and watch our reels and see the Flickr album. And check out all the video highlights from the fair here. 
WITH OUR THANKS!
We would like to extend a huge thank you to the countless exhibitors, collectors, galleries, and artists who played a part in Art Santa Fe 2023. We would also like to thank our sponsors and partners for making this year's event one of the best. We are looking forward to seeing you again for Art Santa Fe 2024 — July 12-14 at the Santa Fe Convention Center!