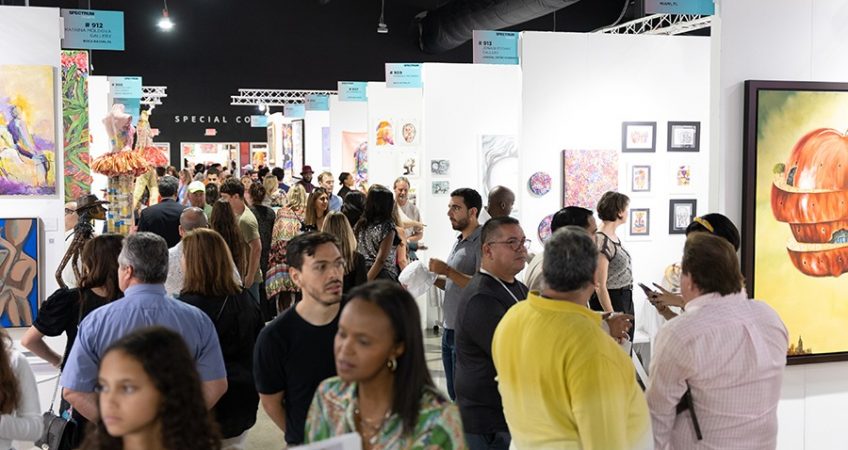 THAT'S A WRAP: HIGHLIGHTS OF SPECTRUM MIAMI 2022
With Miami Art Week's only Two Fairs Under One Roof experience for art lovers, Mana Wynwood was definitely the place to be! The 12th edition of Spectrum Miami was a five-day fine art happening that ran from Opening Night on November 30  through Sunday, December 4. Showcasing hundreds of independent career artists, studios, and younger galleries gathered from 22 countries around the globe, Spectrum Miami 2022 was full of non-stop events and happenings.
Fair Highlights
Stepping into the Lobby, guests were greeted by the Elephant Parade, baby elephant sculptures created by Katy Perry, Khloe Kardashian, and Brandon Thomas. The Elephant Parade is an international organization raising awareness for the endangered Asian elephant with the world's largest exhibition of hand-painted elephant statues. It was a wonderful welcome for Red Dot Miami 2022! The lively tunes of Miami's favorite DJ, Joey Paradis got collectors in the mood while they checked out their favorite booths.
A few steps in the door and there was the Spectrum FOCUS — a special Jason Perez Art exhibit. It was a complete experience and special gathering of outsider art, street, art, pop art, and urban art, complete with live painting demonstrations by some of today's most innovative artists.
Over at Booth 820, collectors were wowed by End to End Gallery's first-time artist Brady Willmott and his Pop Surrealist art.
Always innovative and continually exploring his unique style, Nino Sarti's large scale paintings and engaging Meet the Artist sessions with collectors were a bit hit.
When Bottl3man took center stage at Famespace's Booth 801, it was eye-popping to watch him paint with a bottle — literally! Whether creating a painting of Warhol, Michael Jordan, or an abstract image, his innovative approach resulted in a must-have artwork.
In Malcolm Smith's Booth 1100, attendees were treated to Malcolm's capture of famous actresses' movie quotes in his bright, bold, colorful palette putting smiles on collectors faces as they decided which one should be in their collection.
Of course, that's only a hint of everything that happened — take a look at the videos that capture the magic or our photo albums and you'll see more of the action!
While collectors sipped Pommery Champagne, galleries received special honors as we handed out this year's awards. Here are this year's winners:
Spotlight Award:
Briana Fitzpatrick
Brinton Farrand
Deadwax – Alex Grimmer
Jordana Rae Gassner
Juan Pablo Zapata
Scott Jeffries
Directors' Award: Jason Perez Art and Kristy Lee
Best Booth Design: Famespace and Sarah Larsen
Sculpture Award: Maria Isabel Pino, Maria Elena Beneito Art
Award of Excellence: ACT Contemporary
Best New Exhibitor: Ryan Troisi and Kay Plante Art
Best International Exhibitor: 97 Art & Ideas and Marian Elena Beneito Art
Best [SOLO] Exhibitor: Susan Verekar, Brinton Farrand, and Nino Sarti Designs
TOP SALES
Spectrum Miami exhibitors were pleased to see so many collectors, and the number of sales and commissions reported throughout the show this year was impressive, as were the gallery placements by [SOLO] artists. Here is a sampling of highlights from this year's exhibitor sales:
Kevin Grass' Lame Ducks Collection drew lots of attention and both Cheese & Quakers and Ducks In Donuts are now in private collections.
First time exhibitor ACT Contemporary saw multiple placements, including works by Tuncay Topcu and Hande Ugur's Adam 2022, Eve 2022, Trust Me, Batman, Hasta Vista Baby, The Joker, and Genius Billionaire.
Angela Fabbri's SOLO booth was a busy place with collectors taking home Bullish, Send the Jet, and Love, Money, Art, plus several of her whimsical Paintbrush sculptures.
Jason Perez Art in the Spectrum FOCUS Pavilion was a busy place and artists were thrilled with sales, including Heartist's Fantastic Relationship with Money, Silver Francis' Passing Pink and Reflections on the Circle of LIfe, Sarai Lezcano's What If It Is All a Dream and Protect Your Heart, Diane Packwood's Bloom 34, Bloom 42, and Bloom 39, King Redd's Love Yourself First, Francisco Fleurimond's Humsus, Francisco Lee's Frida 3, plus multiple pieces by Sean Flores and Fo$$ among others.
Alex Sher's Spectrum return resulted in sales of Dancing Flowers and The Real Mermaid.
Effusion Gallery saw lively interest in artist Zemog's works and sold Good Vibes Only, Jammin', Cash Only, and Run Baby Run.
Not only was Scott Jeffries a Spotlight Artist, collectors were also shining a light on his works, giving Pink Diamond Rain, Fortress of Solitude, Green Eye, Sick Johnny, When the Saints Go Marching In, Earth Head, and Resin Baby new homes.
The Collectors Club Art Gallery placed Taras Opalinski's Glass Panno, Sparks of the Sun, and The Day When Spring Blooms, as well as Oksana Khamnayev's Unpredictable.
Innovative artist Todd Brown placed Demo Tapes and Speedy Pants III.
Ryan A. Troisi minimalist art engaged collectors with sales of Deep Teal and both Deep Purple and Purple & Pink twice, plus several others.
Still thinking about one of your favorite pieces from the fair? Find the exhibitor in our Online Art Gallery and connect to see if it is still available. Who knows—you may find more than one that's perfect for your collection!
See You in 2023
Many thanks to 
Pommery Champagne, Perrier, Empress 1908 Gin, Dezo, Coppola Prosecco, Zephyr Hills Water, Teremana Tequila, Sarris Candies, Art One Nation, American Art Collector, American Fine Art Magazine 
and all of our other 
wonderful sponsors
for their generosity and to everyone who attended the show. Spectrum Miami 2022 was amazing because of you!