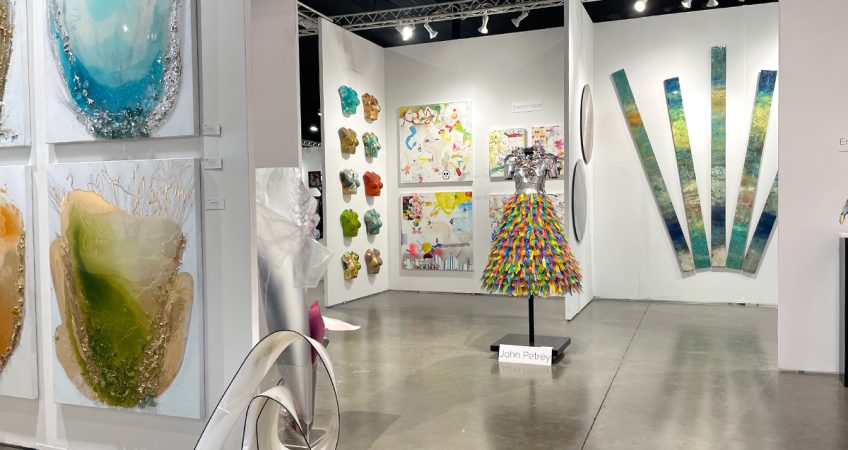 THAT'S A WRAP: HIGHLIGHTS OF RED DOT MIAMI 2021
Art lovers and collectors followed their passion to the 16th edition of Red Dot Miami. After a two year hiatus, it was wonderful to be together again — exhibitors and collectors saying hello again, seeing all the creativity that blossomed over the past months, and finding new artwork to love and collect. The  five-day fine art experience ran from Opening Night on December 1 through Sunday, December 5 — and was full of non-stop events and happenings..
Fair Highlights
---
---
Stepping into the Radisson RED Lobby, guests were greeted by Love Cubes — Violet Fusion, a special Monumental Sculpture by Hugo Diaz, emphasizing love, commitment, dedication, and being one with the world. Perfect as the first artwork for Red Dot Miami 2021! Then grooving to the lively tunes of Miami's favorite new DJ, Joey Paradis, collectors didn't waste any time getting to their favorite booths.
Informed by the curatorial theme [REVEAL], each Red Dot booth was filled with canvases, sculptures, and photographs created by artists who pursue truth and attempt to reveal what they discover, uncovering truths about how the world works, and helping us frame a better picture of our human nature. And attendees were eager to discover each revelation:
There was so much more — take a look at our photo albums and you'll see what we mean!
While collectors sipped Pommery Champagne, galleries received special honors as we handed out this year's awards. Here are this year's winners:
Spotlight Awards:
Art Gallery Pure
K-Art Projects
Nuu Muse Gallery
Jason Matias Gallery
Directors' Award: Jason Perez Gallery
Best Booth Design: Studio Jackie
Sculpture: Qoza Gallery, Tom Wargin and Rawlins Gallery, Nnamdi Okonkwo
Award of Excellence: Art Design Consultants
---
---
Top Sales
Showcasing artwork that ranged from watercolors to sculpture, from mixed media to Street Art, from landscapes to abstracts, the Red Dot five-day art experience had collectors excited to add the artwork to their collections. Here is a sampling of highlights from this year's exhibitor sales:
Zukunft Galerie's artist Adam Rote's Hollywood Collection created a stir, especially with Priscilla Presley's appearance and her signature on multiple sales of the Priscilla print.
Gebhardt Gallery sold two of Angela Gebhardt's sought after pieces.
Art Design Consultants was excited with their two Doug Powell sales — David Bowie Heroes at $22,500 and Martin Luther King Jr. at $24,500 —plus placing several Eric Boyer sculptures, a Renato Foti glass sculpture at $10,000, Mike Elsass' distinctive mixed media, and a David Erman sculpture among several others.
K-Art Projects introduction of Daniel Deladonne's NFT launch, The New Era Series Installation, captured collectors' attention — and so did Gary Traczyk's sculptures, six of which found new homes. Columbia artist Alejandro Rauhut placed 4 pieces and emerging artist Lucienne Toledo from Peru sold two of her creative works.
Studio Jackie was making impressions from the Opening Night and all through the fair with sales of 28 pieces from Jackie Fuchs, Amy Shekhter, Jacinthe Rivard, Lisa Grubb, and B. Lucy Stevens artworks.
Jason Perez Gallery was busy from the moment the doors opened with sales of 11 of Diane Portwood's works; Silver Francis' Deadly Glow also found a new home.
Dane Fine Art places Basquiat's Wrapped in Bubble, plus two sculptures by Opie/Warko and several other pieces.
Invader's L.E.D. work was sold by End to End Gallery for $25,000, along with Martin Whatson's Stag and Make Love, Max Samsung's My Walkabout, plus 17 additional pieces.
Art Gallery Pure's first exhibition at Red Dot proved to be the right spot at the right time and sold Jill Donahey's Wave Pools, Joseph Raymond's Strength and Beauty, Kiki Zais' Ocean Green, and several other pieces.
Perseus Gallery placed Kaima Marie's Lipstick along with two pieces for artist Mary Lai and several other artists' works.
Still thinking about one of your favorite pieces from the fair? Find the exhibitor in our
Online Art Gallery
 and connect to see if it is still available. Who knows—you may find more than one that's perfect for your collection!
---
---
See You in 2022
Many thanks to Pommery Champagne, Artsy, Topo Chico, Buzzballz, Perrier, Radisson RED, and all of our other wonderful sponsors for their generosity and to everyone who attended the show. Red Dot Miami 2021 was a great comeback because of you!
Until next year, make sure to follow Red Dot Miami on Facebook, Twitter, and Instagram for all the latest news, updates, and behind-the-scenes shots. And add November 30-December 4, 2022, to your calendar now for the 2022 edition of Red Dot Miami!