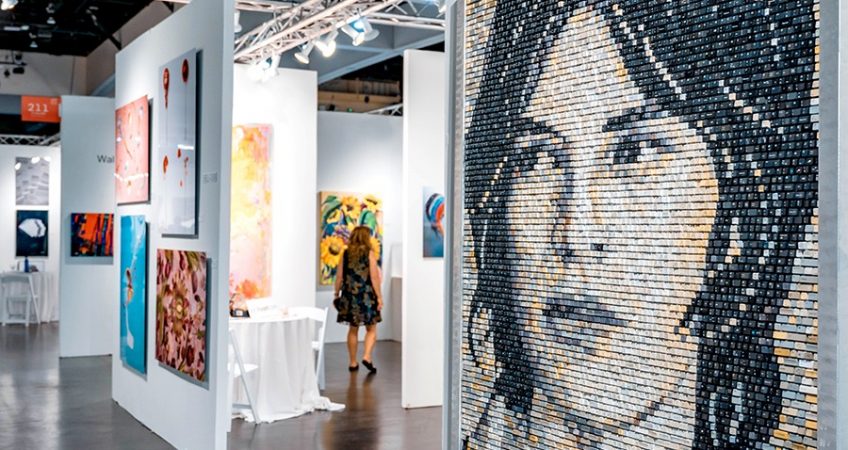 THAT'S A WRAP: HIGHLIGHTS OF ART SAN DIEGO 2022
Art San Diego made a stunning comeback after a three-year hiatus with it's 14th edition held September 9—11 at the San Diego Convention Center. As San Diego's only contemporary fine art fair, the fair hosted just over 100 galleries, art publishers, and artists from cities across the globe, showcasing original prints, paintings, drawings, sculptures, photography, ceramics, giclees, lithographs, and glassworks, among other contemporary and fine art.
With a Collectors' VIP Opening Night that hosted more than 2,000 attendees, it's clear that people were excited about the return of Art San Diego and it continues to be Southern California's most anticipated contemporary art event. As expected, Art San Diego offered art aficionados and collectors an unparalleled opportunity to explore, experience, experiment, and discover.
Whether you were there and want to relive the highlights with us or you couldn't make it this year and want to excited about next year's show, read on for a recap of Art San Diego 2022.
ACCESS TO ART PROGRAM
Through Access to Art, Art San Diego, in partnership with UBS Financial Services, works with selected charities and those they serve to share opportunities in art, design, business development, and more. Art San Diego's 2022 Access to Art partners were Monarch School, Humble Design, Liberty Station Arts District, and ArtReach.
Attendees enjoyed special installations from each of our non-profit partners, purchased artwork created for the Access to Art program, and were able to learn how each makes the San Diego community a better place to live. Check out the Access to Art video to see an overview of the collaboration of this amazing program.
SHOW HIGHLIGHTS
Art San Diego's acclaimed programming once again caught the attention of fairgoers and media alike.
The Spotlight Program provided collectors with a focused look at several galleries and prominent artists who created a site-specific exhibition. Spotlight Program recipients for 2022 included:
5Art Gallery
Catalyst Contemporary Gallery
James Gage, Gage
Johannes Boekhoudt, Johannes Boekhoudt Fine Art
The [LOCAL TALENT] program was also a success. Lisa E. Fine Art and Leah Schaperow with Milk Oolong Studios were the artists selected this year'. Funded by Art San Diego and Presenting Sponsor UBS Financial Services, in partnership with the ARTS DISTRICT Liberty Station and the NTC Foundation, [LOCAL TALENT] is intended to amplify and support San Diego's visual arts community.
Watch all the show highlights in our recap video and listen to exhibitor interviews on our Art Fair Confidential podcasts.
TOP SALES
With thousands of guests pouring in throughout the weekend, Art San Diego exhibitors reported strong sales. Here's a sampling of some of this year's top sales:
Access to Art – Monarch School Art Program – 47 student artworks, including originals and prints
ADC Fine Art – Ken Raussch Collection 47" x 59" and 11" x 71", Marlene Sanaye Yamada's Imminent Domain 48" x 60", two Tubi Ho works, Pamela Nielsen's triptych 96" x 48", and 3 pieces from Jon Oakes works
Aghassi – Black Pomegranate 21" x 16" and Deja Vu 16" x 14"
Alex Sher – Private Pool 48" x 28.8" and two other pieces, including Katherine Fox's Hold On 16" x 20"
Antoine Art – Safe Here 1 & II 16" x 16", Madi II 12" x 12", Refuge 12" x 12", Stephen 12" x 12", Zoe 12" x 12", AlexxI 12" x 12", Madi I 12" x 12", Rooted 16" x 16", Home 24" x 30", Anthem 12" x 12
Art Gallery Pure – Tiramisu 30" x 40" and 3 other pieces plus a commission
ArtnWordz – 17 prints and an original from the ArtnWordz Collection
CJ Gallery – Wally Gilbert's Juggler #2 24" x 18" and Bristrol de Centre 27" x 18"
Duke Windsor Studio – Cheese Burger II 13.25" x 13.25", Double Cheese, Extra Pickles 15.5" x 15.5", Double Cheese Burger 17.5" x 21.5"
Dragan Sekaric Shex – Everyday Joy 30" x 24"
End to End Gallery – Martin Whatson En Pointe 31.5" x 22" and Cycle, Invader's Alert, and a Kaws piece
Era Peradze Art – 6 pieces from her Freedom People Collection
Fatima Franks / mAO – Neon Ladies and the Faded Ladies 40" x 40"
Foundry Michelangelo – Rebeccah Ghiglieri's Arabesque 16" x 14" x 12", Steven Smeltzer's Girrifirina and Seafood, Loran Ghiglieri's Dolphins 18" x 9", Spirit of America, and Bugle Call 24" x 24" x10"
George G. Facelo – Three 16" x 20" and a 20" x 30", 30" x 36", and 36" x 48" from the Collection
Jason Chan Editions – Paradise 25" x 31" and Sydney 2 10" x 15"
Jason Perez Gallery – Rocky Asbury's Shop Til You Drop 36" x 48". Diane Portwood's Fly Away With Me 4 25" x 54", All the Small Things 24" x36", Cosmonaut 24" x 36", and You're Not Like The Other Girls 12" x 12", Dior 36" x 60"
Johannes Boekhoudt – Las Tres Miradas 46" x 56"
Kate Taylor Studio – Echoes of the Night 30" x 30", Living in Harmony 30" x 30", Glow at Dawn 12" x 36", Daybreak Dreams 36" x 48", 7 pieces from her Little Treasures Mini Series, Sound of the Night 12" x 36", Blue Morning 24" x 36"
Kathleen Carrillo – Two of her 20" x 20" works
Kerri Warner – Curlers and Waiting in the Wings
Kushlani Fine Art – Four 11" x 14" prints
Marianne Enhorning – 6 works from her Small Beauties Collection 3.5" x 15"
Mary Johnston Studio – Sun Emerging #2  24" x 24", The Beautiful Sea 48" x 60", Clouds with Blues & Greens  36" x 36", Beautiful Day and multiple other pieces from The Squares Collection 12" x 12", and a commission
Michael Xavier – Lip Dancing 20" x 30"
Olga Lavrova – Night Town 11" x 14", From the Ashes 11" x 14", Birch Trees 11" x 14"
Palette Contemporary Art & Craft – Herve Bordas' Untitled 26" x 32.5"
Pedro's Photos – House in Thailand 8" x 10", Gate to Manchu Picchu 8" x 10", IB Cruise 8" x 10", Paris Metro 8" x 10", Harbor View 8" x 10", IB Pier and Passing Cruise Ship 16" x 20", Dia de los Muertos 20" x 24", Skyline Harbor View 12" x 24"
Rinenbach Photography – Josh Trilogy 24" x 24" and Fuck 'Em 24" x 24"
Sammoun Fine Art – Lupin Field 30" x 24", Cypresses 12" x 12"
Sconzert Art / CS Boris Design – Everything Was Fine, Until It Wasn't 30" x 40", Main Crossing 20" x 20"
Shima Shanti – Born of Water and Wind 36" x 36", Tears of Laughter 1 36" x 36", Unbeheld Schema 1 36" x 36", and 3 other works
Sole Counter – Best Friends 48" x 36" and Blohazard 40" x 30"
South Trip Gallery – Claudia Trewik's Architectural 16.5" x 16.5" and Francisca Siri's Ananda 35.5" x 47.25",
Stephen Robeck Photography – Compromise 2  24" x 24", Eucalyptus 370 24" x 68", Hybrid Oak Study 46" x 24"
Three 3 Three Art – Dice 51's Bo No Bo 16" x 20"
Walter Redondo Art – Two pieces from his Together Series 45" x 40"
Still thinking about one of your favorite pieces from the show? Find the exhibitor in our Art Gallery and connect to see if it is still available. Who knows—you may find more than one that's perfect for your collection!
AWARD WINNERS
While fairgoers sipped Pommery Champagne, artists and galleries received special honors as we handed out this year's Art San Diego Awards. Here are this year's winners:
INTERNATIONAL: South Trip Gallery, Sammoun Fine Art, and Kathleen Carrillo Galleries
BOOTH DESIGN: End to End Gallery, Mary Johnston Studio, and ADC Fine Art
DIRECTORS AWARD: GAGE and Marianne Enhorning
SCULPTURE AWARD: Saddle Road Contemporary – Gino Miles and Foundry Michelangelo
BEST NEW EXHIBITOR: Kerri Warner
EXCELLENCE AWARD: Kate Taylor and Antoine Art
SOLO AWARD: Rinenbach Photography, Sconzert Art / CS Boris Design, and Stephen Robeck
Many thanks to our wonderful sponsors for their generosity and to everyone who attended the show. Our success was because of you! Until next year, make sure to follow Art San Diego on Facebook, Twitter, and Instagram for all the latest news, updates, and behind-the-scenes shots.
We'll be looking forward to seeing you again for Art San Diego 2023, November 3—5 at the San Diego Convention Center.